IBB Christmas Giveaway #2
It's going to be a terrific Tuesday design devotees! We're giving away this super-fab Ziggy throw tomorrow! This giveaway is open to all of our friends in the blogosphere as well as anyone who can head over to IBB to register to win.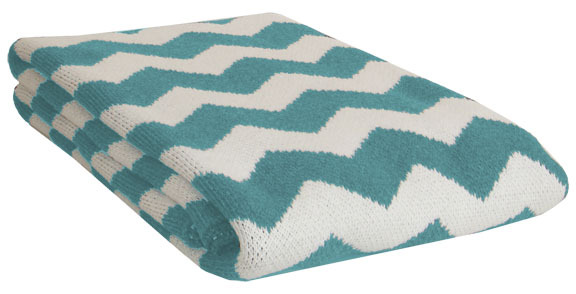 Our clients have gone crazy for the Ziggy throw! We currently have it in stock in navy, neutral & this fabulous pool color. The classic print will add a splash of style for both modern and traditional interiors. Use one of these throws over the back of a sofa, at the foot of a bed or folded over the arm of your favorite chair. Contrast knit on reverse side with the same colors used on front side.
Dimensions: 50″ x 60″
Material: 80/20 cotton/acrylic blend
Care: Machine washable
How to enter:
Online: Just leave a comment anywhere on the blog between now & 5:00 PM Central time on December 4, 2012. Make sure to leave your first & last name with your comment.
In person: Simply fill out a form at the giveaway display table by our reception desk at IBB Design Fine Furnishings & drop it in the bowl.
All online names will be added to the bowl for a drawing at 5:00 PM Central Time.
The winner will be announced here on the blog tomorrow evening.
Good luck & happy decorating!!!