Does your ultimate sports fan need a great place to watch the game?  Do you cringe at the thought of having friends over for the game because your family room looks more like a frat house than a warm inviting space?  Don't worry!  You CAN have it all!  Just picture it ~  a well-designed room that will have your friends cheering!  It may look something like this…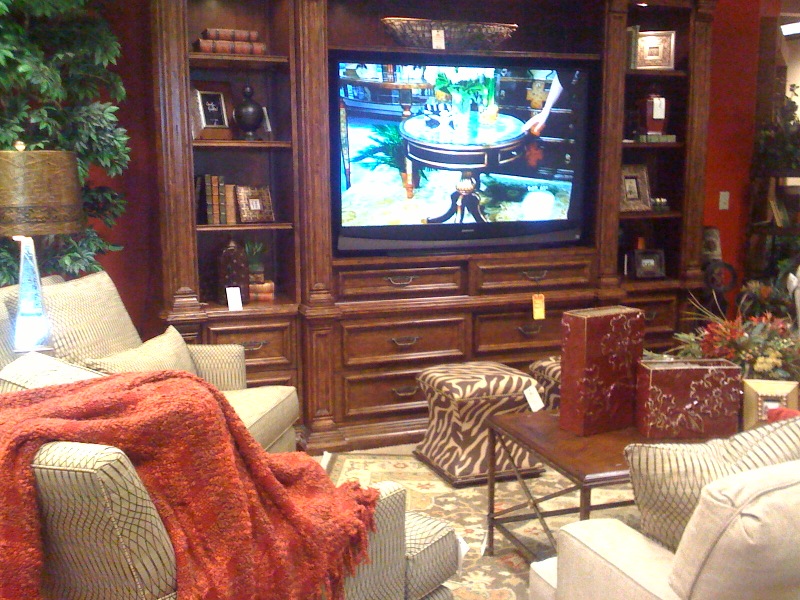 What does it take to create the perfect place to watch the game in style?  In my opinion, there are three key factors.
1)  A fabulous place for your TV (i.e. a wall unit like shown above, mounted TV with a console underneath, or armoire ( I absolutely LOVE this TV wall unit!  There are plenty of compartments for all of your media equipment and tons of bookshelves to decorate with gorgeous accessories!)
2) Ample comfy seating (think a plush sofa & chairs) Tip ~ Add small stylish bench ottomans for extra seating (see zebra ottomans in above photo).  They can be easily moved around & are so versatile & functional!
3) Add style & color with accessories. (The furnishings in the above photo are very neutral.  We added pops of color with a red throw blanket, red pottery for the coffee table, red pillows for the sofa & other red accessories throughout the TV wall unit.