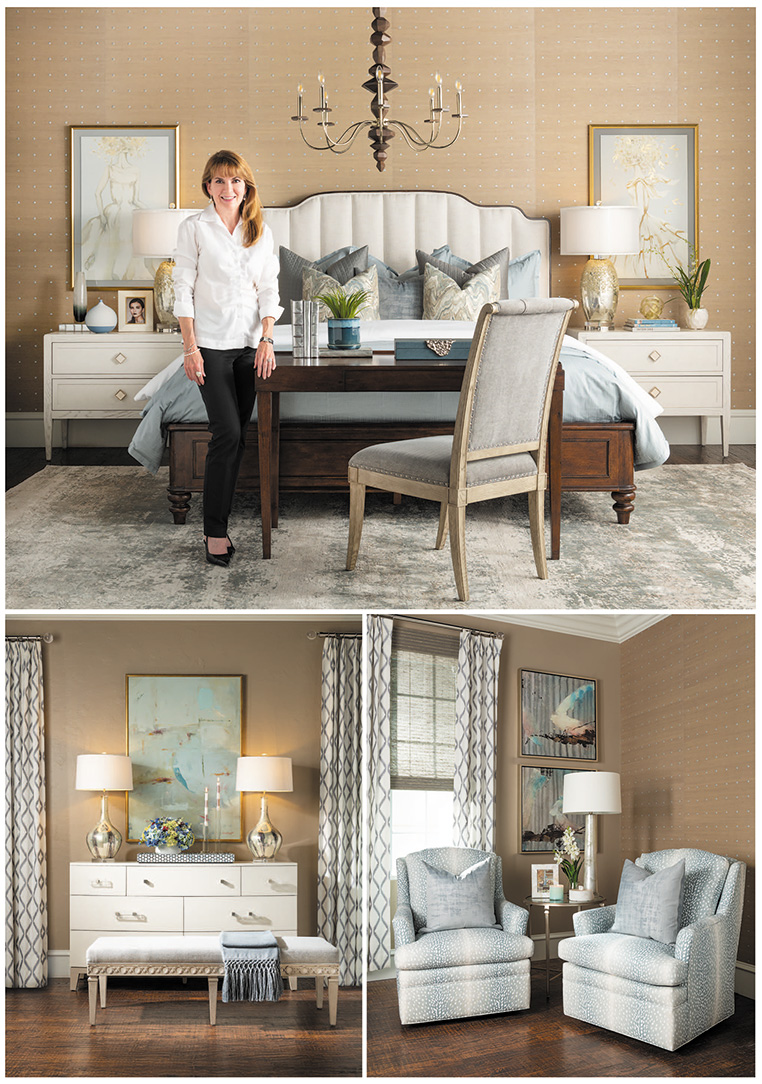 This bedroom was inspired by clients asking me for help updating their primary bedroom. If you have a bedroom full of dark wood furniture, a great way to brighten up your room is to add a light neutral upholstered bed. Or you can switch out your dark nightstands for light-colored painted pieces. I love to mix up finishes like I did in this room. It creates a carefully curated look and a "collected over time" feel. The key to help your room feel pulled together is to repeat some of the same or similar finishes. In this room, I used pieces with a wood stain – the bed, writing table, and chandelier. The nightstands, dresser, and bench are done in a light painted finish.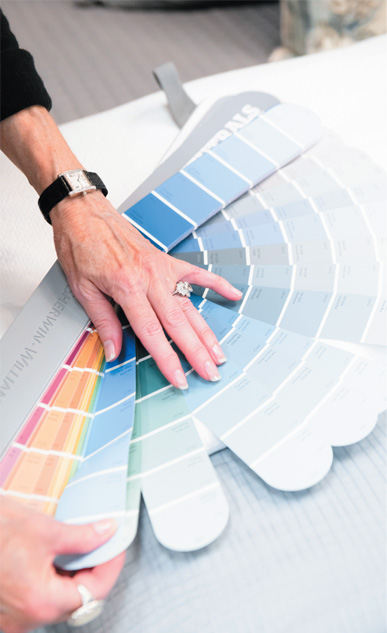 If you are planning an entire room, start with the bed. I think of your bed as "the star of the show." Your bedding texture and color can help create the feel of your room. Here, I used luxurious 100% cotton bedding from Portugal and Italy. The soft, muted blues, grays, and the pop of white create a relaxing and spa-like feel. The pop of white ties in with the light painted furniture.
Once I picked the bedding colors, I chose the upholstery to coordinate the colors – the beautiful swivel chairs in blues and off whites, the desk chair and bench in light grays, the area rug in blues, grays, and off white, and the soft Alpaca gray throw on the bench. Then I added touches of the blue color in art pieces and accessories.
Of course, I had to add a little glamor: The two lamps on the nightstands are mercury glass with rock crystals on the base, and the art above the nightstands has gold foil accents for a little shimmer. The two lamps on the dresser are a gray metallic. The tray on the dresser is a mother of pearl mosaic, and the marble box on the table between the chairs has a rock crystal on top.
Whether you are updating your bedroom or creating an entire room, it can be very exciting to watch a beautiful room come to life.