Get Covered – Window Treatments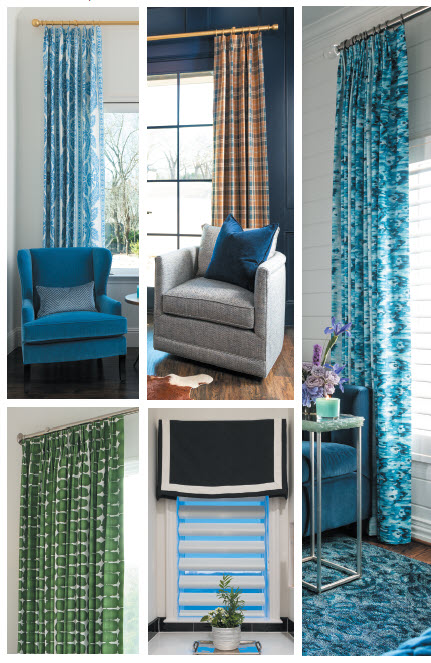 We are so fortunate to have some amazing tall windows in many of our homes. They let so much light and energy into the home and allow the space to feel fresh and happy. They let us enjoy the outside from the air-conditioned comfort of the room.
There is, however, the issue of privacy or blocking some of the sun's harsh rays to protect the floors and furniture. And that's where IBB can help!
For many years now, the trend has been to do simple panels on the sides of windows. If the divides are wide, you may choose to cover those as well. The best analogy I have heard is the panels are like earrings around your face. They offer color and texture and complement the beautiful windows. They let the windows be the star of the show, just as earrings complement your outfit but let your facial features prevail.
Depending on the architectural features of your room, I like to place the rod just beneath the crown molding. This keeps the eye going up, accentuates the height of the ceiling, and makes the windows and the room feel grand. Placing the rod lower keeps your eyes and focus down.
It is impossible to buy the correct length and width of panels off the rack. IBB offers thousands of fabric and trim selections. We also have a fantastic selection of rods and finials from various vendors. The process is quite easy to get the look, color, and scale that you need. You may have been putting the windows off for a while and focusing on furniture, but you will be amazed how addressing the windows warms and completes your room.
We offer complete turn-key solutions including the fabric, labor, lining, hardware, and installation for custom draperies.