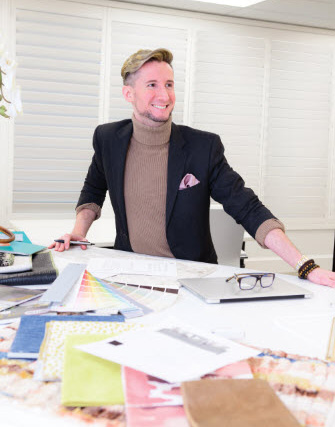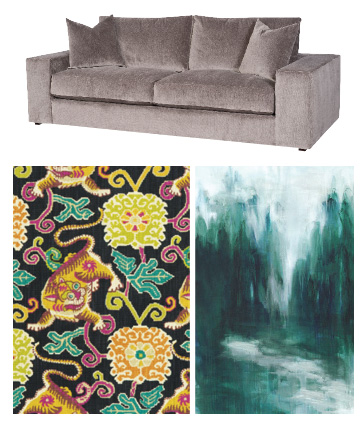 I have been working with a really fun young couple on creating a family-friendly great room. The husband had fallen in love with a wild chinoiserie fabric I had used on a pair of chairs in a previous project. Being a fan of a more elegant and glam aesthetic, the wife was not "the biggest fan," but she begrudgingly agreed to let me play with it to see what I could do!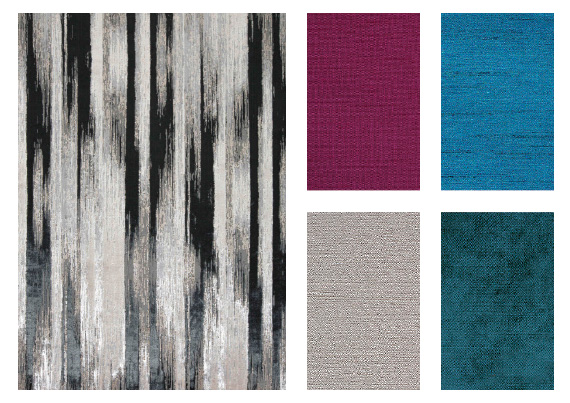 Since we knew we wanted our focal fabric on a chair, I found a great rug to anchor the space in a more natural sofa fabric. A 100% polyester rug imitates the look of a viscose hand-knot one, and paired with an iridescent performance velvet will start to pull a more contemporary vibe to juxtapose the more traditional print. While we did go more neutral, I also wanted to make sure I brought in some glam to make the space feel more elevated, while keeping everything family friendly. To take it one step further and bring a little richness and depth to the space, I added a beautiful teal silk dupioni drape and some throw pillows in teal and fuchsia.
To top everything off, we selected an amazing custom giclée that we are having produced in an extra-large size to really embrace the two-story ceiling in the room. A great black frame will make it pop off the neutral stone, and adding a glass coat finish will create dramatic light from the windows during the day and the smoke glass chandelier in the evenings.
A jumping off point for a project does not always have to come from a piece of art or an amazing rug or a family antique. Inspiration just must come from something that speaks to you, for whatever rhyme or reason. If you follow your heart, it's easy to create a space that you love!