5 Steps to a Show-stopping Wine Room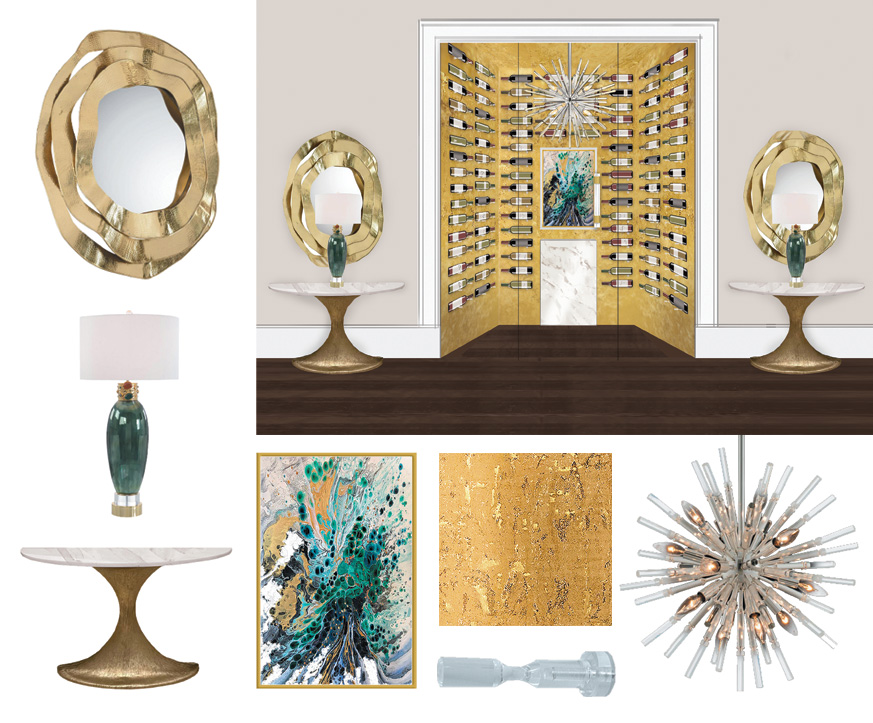 Wine Rooms are a very popular request among our clients. There are so many fabulous ways to create a unique design that give your home a true "Wow!" factor. While storage and functionality are an obvious must, the decorative elements are really what make these spaces stand out. We're giving you a sneak peek into one of our latest wine room designs and how we achieved a show-stopping aesthetic that our clients' family and friends rave about!
1) Texture! Wallpaper or decorative paint techniques can dress up the walls of a wine room and instantly take the space from boring to beautiful! For this design, we selected a metallic gold cork wallpaper. It gives the walls dimension but without a busy pattern that would visually compete with the wine bottles hanging on the wall.
2) Storage! We really wanted the elegant design details to be the focal point in this design, not the wine storage. We opted for individual acrylic wine holders which offer a simplistic storage solution that allows the other elements to shine.
3) Fabulous lighting! Decorative lighting can act as jewelry in a space. For this wine room, we chose a crystal Sputnik-style chandelier. The crystal keeps it from feeling too heavy in a small space, and it really sparkles when it's illuminated. We also designed the center console using backlit quartzite. It makes a beautiful statement and takes the design to the next level.
4) Artwork! Art provides the opportunity to add color to a space. With art being such a subjective matter, it can also add a personal touch to a space. Use this as an opportunity to showcase a favorite painting or piece from one of your favorite artists.
5) Finishing details! With this wine room being part of a king hallway, we decided to frame the room with demilune consoles that offer additional serving space. Stunning emerald green lamps and hammered brass mirrors complete the symmetrical design.