The design world uses the term Mid-Century Modern to classify a vast array of design styles, from describing spaceage furniture to color blocking. The term has a variety of applications and can sometimes get misinterpreted in the mix.
The technical definition of the term Mid-Century Modern (or MCM for short) refers to furnishings and design in response to a post-World War II world. Sleek and simple futuristic-looking forms dominated the interior design scene at the start of the 1950s. Designers were eager to develop new ideas that fused innovative mass production with a more optimistic outlook. New concepts such as indoor/outdoor living, the use of steel and other industrial metals, and incorporating more natural materials jump-started an explosive push toward modernizing the interior look and feel of the American home. Even though it has been around for decades, the popularity of both vintage and new mid-century modern pieces shows that this style is here to stay. When I think of MCM design, I break it down to three major elements:
Clean Lines, Vibrant Colors, and Natural Materials.
CLEAN LINES: Mid-century furniture designers were modernists. They valued simplicity and creativity, and it shows in the furniture they designed. Gone were the days of elaborate, ornate pieces, as this new trend began to create a soulful vibe with a more modern feel that other period antiques couldn't quite achieve. Unlike frillier ancestors, mid-century modern furniture and styling are much more straightforward. Chairs and tables consist of simple pieces of material, taking a more minimalist design approach by using sleek lines with a focus on functionality and keeping spaces uncluttered. Goodbye oversized sofas and frilly curtains. Hello, angled legs and simple upholstery. Think clean lines, elongated proportions, and curved corners. Opt for geometric shapes and slim, sleek designs. Choose furniture and décor that have a clear purpose and can easily be used for more than one function.
VIBRANT COLORS: MCM design is all about turning heads, and making use of vibrant colors is a quick (and cost-effective) way to achieve this. Snappy reds, bright teals, and mustard yellow are a few of the obvious front runners, but these attention grabbers can't do it alone. Tones of gray, brown, and white are needed to ground design, contrast colorful accents, and cultivate MCM's signature style. In keeping with the idea of combining indoor and outdoor, this color palette is rooted in nature, with earthy greens, bright fall oranges and yellows, muddy browns, sea blue-greens, and deep clay reds. This trend initiated unconventional color choices being used in ways never seen before— think back to avocado green shag carpet— I promise this will NEVER come back into style! Instead, use colors as a bold accent. An example includes painting a piece of furniture to stand out singularly in a room. Use paint for a bold color block design on a wall (or ceiling!) to differentiate spaces in a large open concept great room. Again, make sure geometric spaces and clean lines are utilized.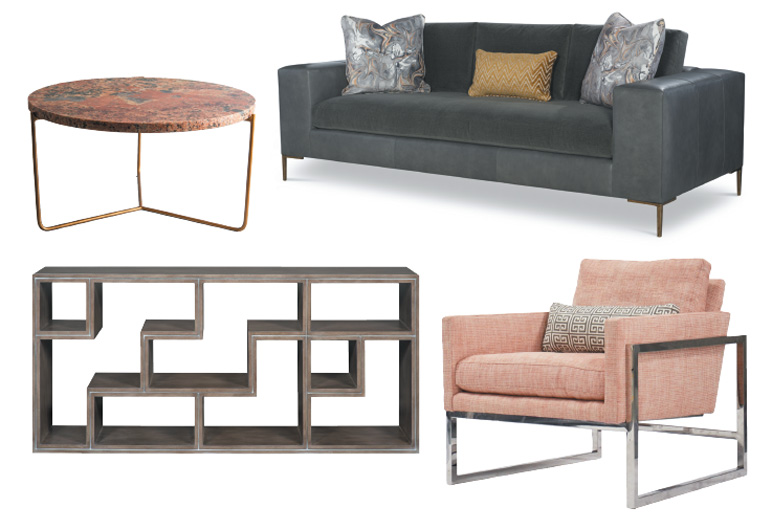 NATURAL MATERIALS: Bringing the outdoors in is a key component to achieving the emotional and warm feel people find so appealing in MCM design. Large picture windows, steel beams, and wood and grass cloth paneling are found in almost every early MCM home design. A way you can bring these elements into your home without investing in an Eames House (a girl can dream!) is by incorporating natural materials. Blend case pieces like coffee tables and side tables made of natural wood. Leather upholstery and jute are accessible options to bring texture to your space. I love layering a neutral jute area rug over a brighter rug, allowing just the border to peak out to create interest and substance.
At the end of the day, striking a balance is key when it comes to incorporating MCM style into your space. You want your home to feel modern and comfortable, not like a museum of the 1960s! Less is more; don't go overboard. Integrate two to three furniture pieces or a funky light fixture. Make use of bold colors and natural textures to give the room a cohesive feel. The entire heart of the MCM movement lays in function, so make sure any gorgeous pieces you acquire are also sturdy, comfortable, and practical enough for your everyday use.