Spring Cleaning & A New Look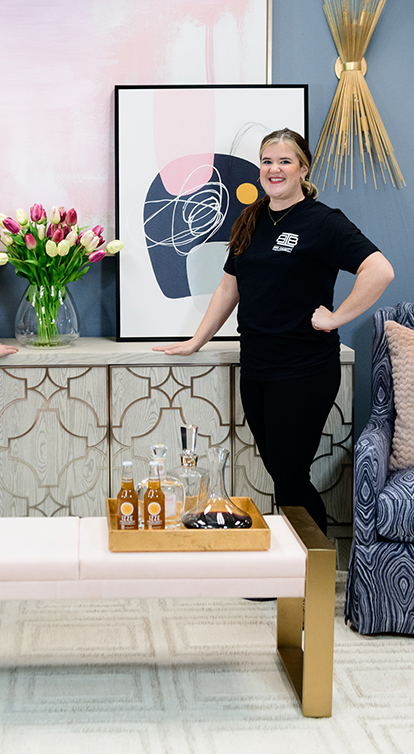 During Victorian times in Britain, homes were mostly heated and lit with coal and oil. As one might expect, the burning of these resources left a sooty residue on pretty much everything, from the windows to the walls (not to be confused with the song "Get Low" by Lil John and the East Side Boyz), the carpets, the furniture, etc. Once spring rolled in and the weather started to get warmer, women would go outside and beat carpets to get rid of the dust and grime; windows would be flung open and cleaned, and all that soot and dirt would finally be wiped away in the home, allowing fresh spring air to purify the stuffy atmosphere that was present all winter. This is just one origin story of how this tradition of spring cleaning became regular practice in our modern lives.
It's a truth universally acknowledged: An organized home is a happy home! And not just because it's easier to find what you need. In fact, research has shown that cluttered spaces can cause more unnecessary stress than you might think. Having a plan in place to help simplify, streamline, and banish clutter throughout your spaces is very important for the success of your cleaning progression. To get started, there are a few simple organizing rules to keep in mind.
Let's start with the KITCHEN! When you can, it's always helpful to group like items together and sort them by the frequency of which you use or wear them. In other words, don't let your fine dinnerware take up precious space in the pantry when everyday mugs and neatly stacked bowls could be of better use. Sort items vertically: Store your most frequently used items in the most accessible places. Keep things you use most often at eye level; store heavy items below waist level and infrequently used items on high shelves or in another area of the house. Stack trays and platters by shape: round platters in one stack, oblong platters in another. Or lean platters against the back wall of a cabinet (secure them using rubber bumpers) and stack plates in front. Use baskets and bins to contain small items that might otherwise create clutter, such as spices, dish towels, or cleaning supplies.
Let's talk about the ENTRYWAY: Keeping the entryway organized will result in fewer lost mittens, forgotten mail, and misplaced keys. Whether you live in a house or an apartment, a systematic entryway will keep things neat and save you time. Add a table. Create a place to set things down temporarily. A demilune (half-round) table or small console set against a wall can hold shopping bags and mail while you remove coats and footwear. Create entryway bins: Get bins for things you need on your way in or out. Attach photos of each family member on his or her bin. Hang dog leashes and umbrellas on hooks. For everything else, be sure that entryway bins or baskets are sorted and emptied weekly.
Let's do the MAIN LIVING AREAS: Organize your hobbies: By organizing the items you need for your favorite hobby, you might feel motivated to do it more. For example, if you like gardening, consider making an organized gardening station. Use shelving to spread out everything you need to garden: pots, a watering can, utensils, etc.
Bookshelves: After all those cozy winter reading sessions, your library may need a cleanup. Take a few minutes to organize your coffee table books, bedside novels, or favorite magazines. You can alphabetize, coordinate by color, or sort by size. Make sure you dust the shelves before putting anything back in its place.
Frame Children's Artwork: If your child likes to create lots of artwork, don't let it pile up and turn into clutter. Instead, frame favorite pieces to display as décor. This will help to cut down on clutter on your fridge and in boxes. If your little angel is a prolific artist, use this an opportunity to create an ever-changing gallery wall with favorite frames, swapping out for each season.
Now for the BEDROOM, the place you go to for ultimate relaxation: Your bed is one of the most special parts of your home. Refresh this space by switching out thicker winter sheets and pillowcases for spring ones. In addition, a new look — like a light- colored duvet or springthemed pillows — creates an entirely fresh vibe.
And finally, some days we are just too busy to make labels for the different types of pasta we have in our pantry. It's okay if your house isn't Marie Kondo level organized. *SPOILER ALERT: The majority of people don't live that way! So, an option that can help you feel productive and grounded is the Eight-Minute Rule. The eight-minute rule can be used for any space in your home. Set a timer for eight minutes every night, and put away as much as you can in those eight minutes. The intent is not to finish organizing your entire room. Rather, it helps to develop organization habits and prevents clutter from building up.
Now that you have a clean slate, small, simple touches can really give your home a new look and feel for the season ahead. Spring décor like throw pillows and faux flowers will spruce up your space. Change up artwork with frames with a lighter color palette. Top off your fresh look with candles in fun, spring scents. Think bright and airy!