I'm excited to finally reveal our daughter Brooklyn's new room to you! After experiencing many lengthy delays on her new furnishings and decor, her room refresh is finally complete. We kept many of her big pieces and selected new elements that would give her a fresh new look that fits her style.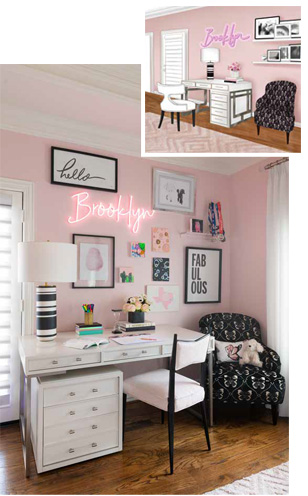 She requested a palette of blush, black, and silver. She loves pink but wanted to change the hot pink to a blush shade in order to achieve a softer and more sophisticated look. We painted all of her trim and doors white. Her bed wall was wallpapered in a blush, metallic, cork-patterned paper, and we painted the rest of the walls in Sherwin-Williams Innocence. We kept her original nightstands and bed, but we reupholstered her bed in a blush performance fabric. She's a big fan of my Madame Butterfly fabric, so our workroom made Euro shams out of the blush colorway for her bedding. We used a blush faux fur pillow in front of the Euros because she loves cozy textures. A new rug under her bed grounds the space and adds tonal pattern. We paired new pendant lighting and mirrors with her nightstands. White metallic sheer drapery panels hanging from polished nickel and acrylic hardware dress her windows.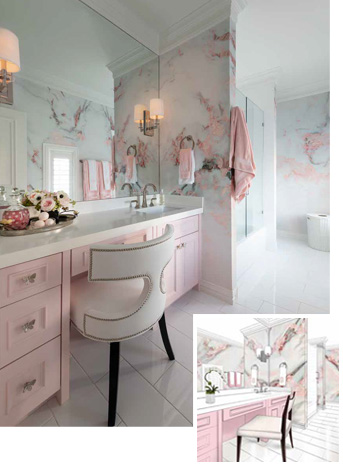 Brooklyn wanted a desk in her room to give her a designated workspace of her own as well as an area to do artwork. We re-covered her hot pink chair in a black cut velvet fabric with a butterfly pattern. We hung her neon sign spelling out her name above her desk. You may have seen the great debate on social media over doing a gallery wall or floating shelves on her desk wall. Brooklyn wanted a gallery wall with her art, and I wanted to layer her art on floating shelves. In the end, we compromised by incorporating an acrylic shelf into her gallery wall where she can display her medals.
The new marblepatterned wallpaper really transformed her bathroom. We also painted her vanity in Sherwin-Williams Innocence. We took down her fabric valance and panels around her bathtub and installed a frameless glass shower door. We ended up re-covering and using her previous vanity chair with her desk and used her new desk chair at her vanity. We loved the white against her blush vanity, and since it's upholstered in a vegan leather, spills wipe up easily.
Brooklyn absolutely loves how her room refresh turned out! Stay tuned to our social media for more details and some exciting giveaways with our vendor partners @designershay @ibbdesign.