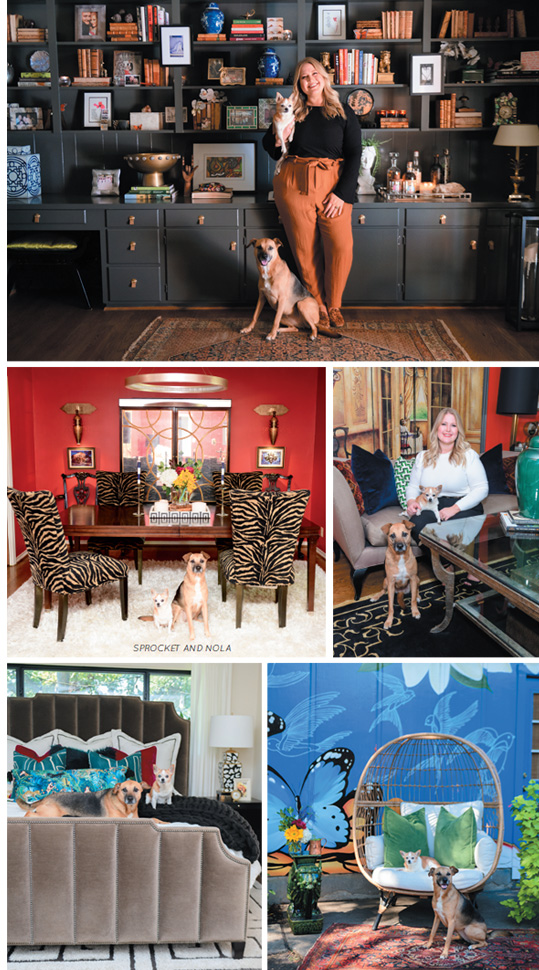 Our fur babies are the heart of our little family. Sprocket is our 16-year-old papillon, chihuahua mix. I had a friend in college who bred papillons, and she had a girl too small to breed. The pup ended up pregnant, and my little man was the only one in the litter. When he was born, he wasn't breathing, and the vet gave up on him. After a couple of minutes, though, he started breathing on his own. We call him my little miracle puppy– a fighter through and through!
He was so small when he came home that he could fit in my palm, and he has been with me through many moves and life transitions. He still enjoys long hikes, and though his hearing isn't what it once was, he seems to be able to hear a treat bag from across the house! Nola is our latest rescue; our friend saved her whole litter from a neglectful owner. When she came to us, she was underweight and scared of everything. My husband wasn't sure he wanted another dog at the time, so we decided to take her for a trial period. Before we got in the car, he couldn't stop talking about his new dog; it was love at first sight! Once she felt comfortable with us, her huge personality came out, and she hasn't sat still since. She plays fetch for hours at a time, and every day when I come home, she is literally screaming in anticipation of her daily hugs.
Nola is named for New Orleans, a place I once called home. It's a city full of so much vibrance, art, and eclectic design that I think my love for it shines through in my home. Clients often ask what my personal style is, and I tell them that it is just that: my style. My job when working with them is to bring the best version of their style to their home. For my own home, I love a curated look. I have been collecting art since I was 18, and my husband jokes that since there are no walls left, I took to the back yard and had a mural commissioned. I have collected pieces from all over. My shelves are full of gifts from travels around the world– some of my own, some from friends and some even from clients. Many of my furniture pieces were from my parents' home who are also in our industry. The pieces are so well-made that they have withstood decades of parties, dogs, and lounging. Everything in my home has a story. When people walk in, I want it to feel like my family, like home– a place to lounge, laugh, and create memories.