Top Five Essentials for Your Breakfast Nook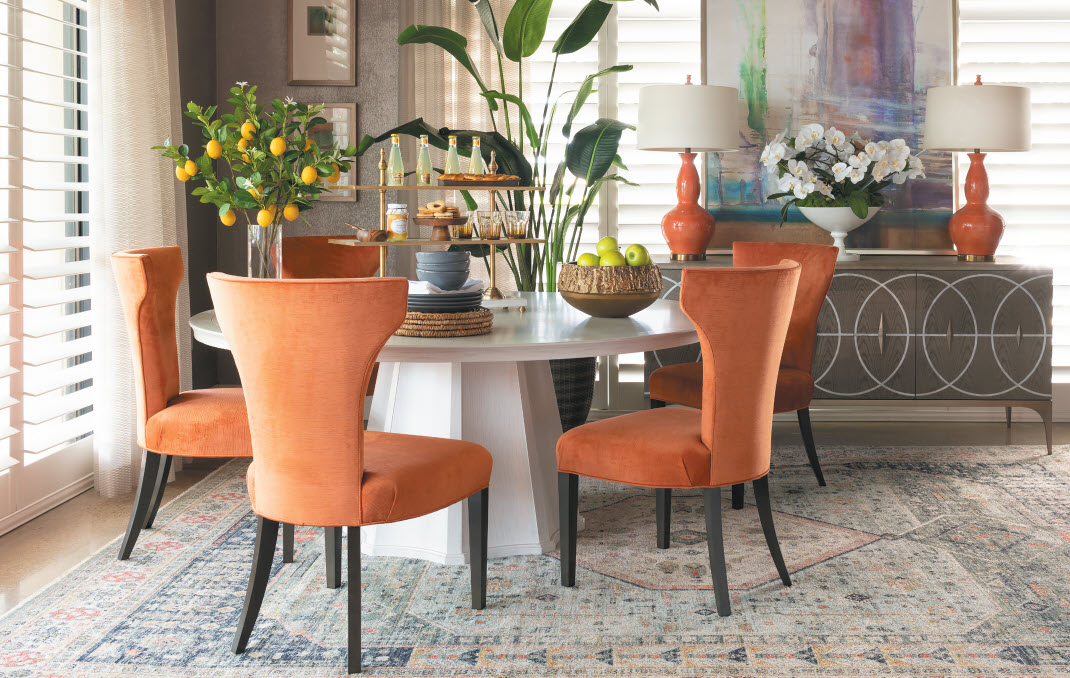 Entertaining season ESSENTIALS for your BREAKFAST NOOK is right around the corner – I know! Now is the time to confirm you have all the essentials to ensure everyone has a seat at the table with everything they might need.
1. TABLE Yes, a table is a pretty obvious essential, but the right one makes a big difference! With the elimination of formal dining rooms happening more often, the breakfast nook has become the main dining area. That means it needs to be equipped with all the benefits of larger crowds. A table with a leaf is a great way to modify the space to accommodate more people. Drop-leaf tables can quickly expand your hosting abilities.
2. SEATING Seating has come a long way and so have the fabrics! Choosing a performance fabric for your chairs helps you keep the style while still being practical. Performance fabrics are specifically made to withstand wear and tear while making it easy to clean those inevitable stains. Benches and settees are also an excellent way to change it up and accommodate more people when necessary.
3. STORAGE Having appropriate storage is crucial to making sure you can find everything when you need it. A buffet keeps tablecloths, placemats, and napkins out of sight and won't take up precious space in your kitchen cabinets. Open shelving keeps smaller areas looking more spacious. If you are short on space, a serving cart tucked in the corner can hold all your necessities as well.
4. LIGHTING Changing out your light fixture is an instant way to take your space up a notch. Base the size of your chandelier on the scale of the table as opposed to the room as a whole. Dimmers also provide a relaxing ambiance and help control the atmosphere. Layering in lighting, such as lamps on a buffet, can also provide some mood lighting for multi-purpose occassions.
5. PLANTS Plants instantly bring a dimension to a room that creates a relaxing and serene aura. They also bring in shades of green, which instantly liven up any space. Permanent botanicals help people who do not have a green thumb enjoy the atmosphere greenery brings. Another benefit is being able to move them from room to room without having to worry about all the elements to keep it alive.