Dallas Market Sneak Peek & ARTS Awards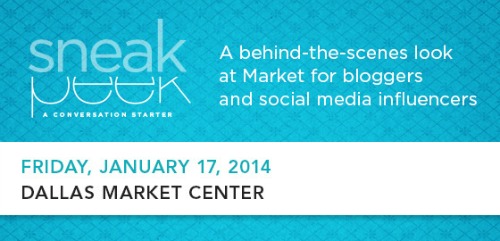 This is a very exciting week around IBB! Several of our designers will be heading to the Dallas Market Center to hunt down the best in home accessories and furnishings to carry in our store. I'm thrilled to be a part of the host committee again for Sneak Peek!  I'll be joining fellow designers and bloggers Elle Cole, Leslie Wood, Kelly Copeland, Denise McGaha, & Hilary Walker  to get an inside look at new products and design trends.  This is always one of my favorite events during market.  I love spending time with my peers and hearing feedback on hot new home furnishings and seeing what my favorite brands are bringing to the marketplace.
You'll definitely want to follow all of the fun & what we're finding during market!  You might even find us hob-nobbing with the special Sneak Peek celebrity guests, celebrity chef Alex Hitz and one of my favorite celebrity interior designers Thomas O'Brien.

We'll also be celebrating at a swanky black-tie gala for the ARTS Awards on Saturday night.  The ARTS awards is the premier international awards program dedicated to home industry excellence and achievement in retailing, manufacturing, design, and representation.  IBB Design Fine Furnishings is one of four stores in the country nominated as a finalist as for best Retail Furniture Store.  This is our first year to be nominated & we could not be more excited!
Make sure you follow us throughout social media so you can be a part of all of the action & see what we're up to & the goodies that we find.  Leave comments & let us know you're thoughts.  You never know, we just might feel frisky & decide to do a giveaway!
IBB on instagram http://instagram.com/ibbdesign/
IBB on Facebook https://www.facebook.com/IBBDesignFineFurnishings