Scene Stealer: Sensuous Sofa
Almost every day I see an item or fabulous home furnishing that arrives at IBB & my mind starts rolling on where & how to use it.  So, I'm creating a new section on the blog called "Scene Stealers".  Let it serve as inspiration to you for your home or interior project.  I'll start with one uber-fabulous piece that steals the show & give you my "suggested pairings" to create a sensational interior around it.
Today's scene stealer starts with a sensuous sofa.   I have literally been drooling over this stunning leather sofa by Hancock & Moore ever since I saw their ad featuring it.  Isn't it just delicious?  I'm not sure what sends my heart racing more; the fabulous shade of teal that gives it an edge or the tufting that gives it a classic feel.   This sexy sofa is what all other sofas should aspire to be ~ a real statement piece.
Suggested Pairings:


How about pillows or even a pair of chairs out of this botanical fabric by Schumacher?  You've just kicked your color palette into high gear!  From tangerine to canary, we now have  lots of room to play!
Time to add a casegood.  This French Key secretary by Global Views adds style & workspace to your room.  This piece is perfect for your great room or formal living area.  Depending on how your room is laid out, this could go on a wall opposite the sofa or even angled in a corner.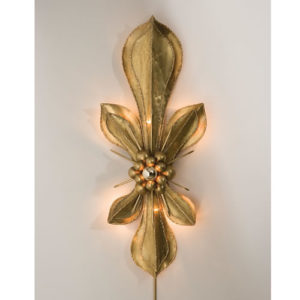 Brass Fleur de lis wall sconce by Global Views.  Yes!  Brass is back & in a beautiful way!  These sconces are stunning and at 42.5″ tall they have a great large scale.  I'd place one on each side of the secretary in this room.  Or, how about one on either side of a fabulous piece of art above the sofa?
Let's add a fun chair to sit with the secretary.  This is one of my absolute favorites.  It's the Alexandra chair from Hickory Chair.  I don't mind mixing finishes, so I think the chippy white finish would work great.  However, if you want to go darker use a similar dark oak finish to that of the secretary.  If you want to play with one of my favorite color combinations, I suggest using one of Kravet's fabrics for the chair back & cushion.  The top linen fabric is 27591 – 12.  The bottom Damask pattern is 24205.24.
Voila!  Now, you have a few key pieces to begin to make your room into something quite remarkable.