A beautiful bedside table.
A bedside table can help make or break a bedroom.  I often like to mix & match.  However, when you find something really fabulous, I say go for two!  Take these fabulous options by Hickory Chair for example.  The first one is their reed & ribbon chest.  It's just stunning.  Hickory Chair offers this piece in a variety of wood & hand painted finishes.  The second is the Normandy chest.   I love the scallopped top & antique feel.  I'm getting ready to show these to a client as options on either side of an iron bed for a guest bedroom.  I'm specifying a parchment finish with gold leaf detailing.  SO excited to see which one they pick & how it turns out!  I will keep you posted.
Reed & Ribbon Chest by Hickory Chair
Normandy Chest by Hickory Chair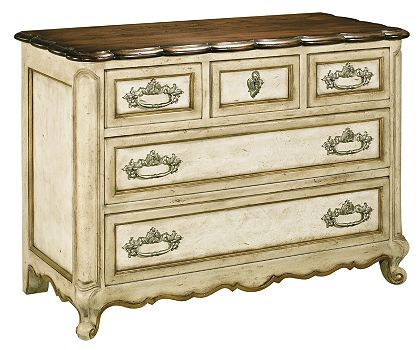 Hickory Chair is available at IBB Design Furniture Showroom.  Contact an IBB designer for details.