Accessorizing and Personalizing Your Home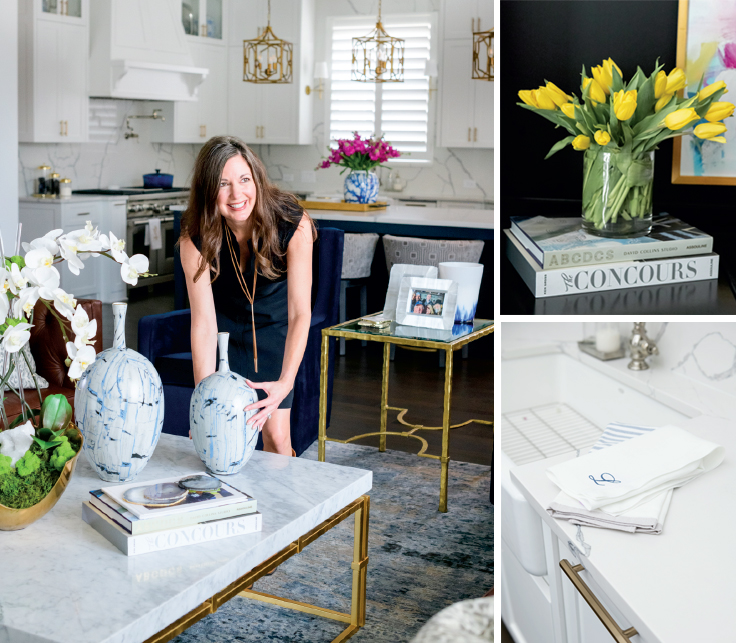 Hoping for that finished look in your home? Do you yearn for a meaningful, comfortable, inviting feel? Take a look around and see how you might improve on personalizing through your accessorizing. I believe a home is a personal sanctuary and is a reflection of its owners, and your guests can sense this the second they walk through the front door.
Lighting is a big one for me, as it creates such an ambiance. Unique lamps, statement chandeliers, and even task lighting go a long way in customizing a space. I have always said lighting is the jewelry of the home.
Interjecting life into your space with fresh flowers or botanicals (real or faux) is another way to liven up any room. Playing to the senses, candles are a great addition as well. Painting accent walls or unique architectural details is another way to enhance a room.
One of my 'go to' accessories would be stacks of cocktail table books. Try and collect those that inspire and reflect your interests. If the spines' colors flow with your color palette, even better!
Books are also a wonderful way to form variations in height in creating that visual triangle when arranging accessories. Be sure to display meaningful items in unique and unexpected ways to add that added touch of interest. Symmetry can give the sense of relaxation and helps to fashion a finished feeling.
A great piece of art can really change the entire mood of a room. Seek out those pieces that speak to you! Bear in mind, art can be tucked into bookshelves, collaged on a wall, or could even be a large, overscaled piece that really commands attention in a space. I also love the idea of watercolor portraits of one's past homes to help keep those memories alive. You truly can use your art, rugs, and accessories to carry a color palette throughout a room while personalizing it.
Nothing screams personalizing more than monogramming. Whether you add that special touch to your linens, pillows, or even a throw, it adds another layer of personalization. Don't be afraid to play with the colors of the threads that complement your space and the sizing of the design. Have fun with it! You might even consider engraving a special family recipe on a cutting board for a fun kitchen piece.
Last but not least are pillows and trays. One cannot have enough of these, for pillows really enrich your pieces and change a whole look! It is even okay to have extra sets tucked away so that you can mix things up as the seasons turn or when you just feel like freshening a room. Trays are a great way to add interest while compartmentalizing items and creating a sense of unity.
Ultimately, I say to fill your space with things you love and inspire you. Our home is where we should feel most at peace and enjoy gathering with family and friends. Those extra little added touches are what make a house a home.