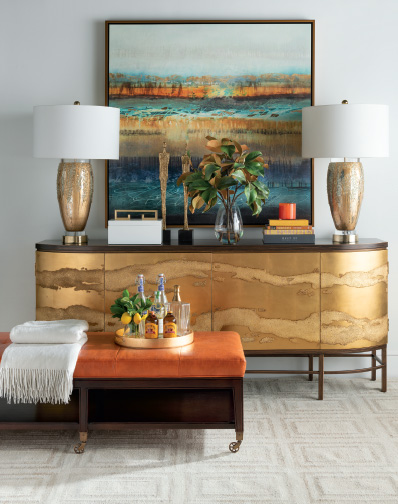 FALL – The cozy décor season has begun! Warmer colors and textures become integral parts of making our home warm and inviting for the upcoming gatherings of family and friends. Here are a few design tips to make your home a welcoming abode this autumn.
1. Trade the pastels and cooler colors for warmer colors like tones of orange, caramel, black, and even charcoal gray. Neutral colors like cream, white, and light gray used in year-round upholstery make it an easy transition to change out colors with vases, books, and lots of throw pillows.
2. Less is definitely more in the summer months, but the fall calls for layering of interesting textural accessories. Put the colorful glass accessories away and bring in a few nice metal sculptures in black and bronze tones. Hammered metals are really great for this time of year. Adding a sheepskin throw over a chair or on top of an existing rug enhances the coziness.
3. Swap out a few pieces of your art for ones that have an earthier or warmer feeling. There are some great oils, watercolors, or giclées that can work magic in the room. When you find that statement piece, an easy trick to making the room décor feel put together is to play off the colors in the art for your pillows and accessory selection.
4. Create cozy gathering areas in your home. For instance, relocate the console table or chest that is in the entry and put a cozy bench with lots of pillows or maybe just one dark, furry pillow. It becomes the perfect place to change shoes and will add a welcoming site for visitors.
5. Paint an accent wall in the darker hue of your existing walls and then hang a multicolored textile on it for a casual look in a study or breakfast room or use it as the headboard in the guest room. With the abundance of beautiful fabrics available today, it will be a challenge to settle on just one textile.
6. Don't forget the lighting. Dim those overhead lights and use earthy and textural table and floor lamps. Consider changing the daylight bulbs in some areas to add more ambiance.