4 Tips for Setting Your Table for a Party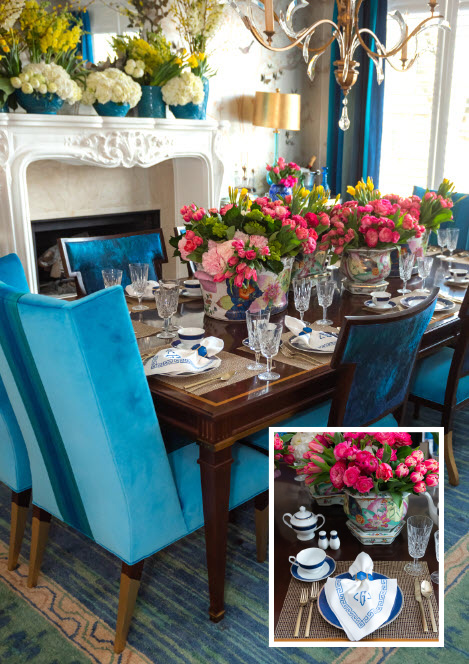 I recently collaborated with Shane Friesenhahn of Botanical Mix to design a fresh and colorful setting that is perfect for a summer soirée!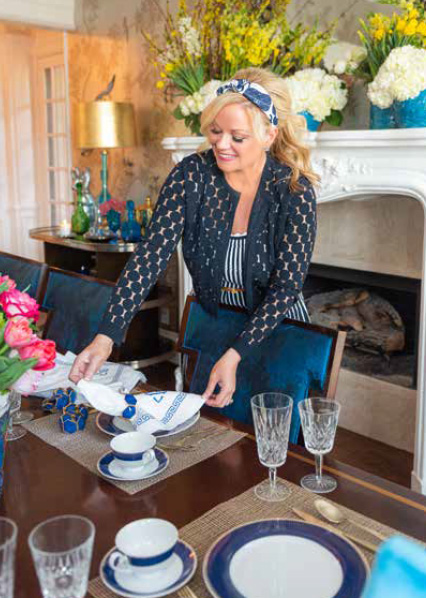 1. Fresh and faux! I love to add fresh flowers to my permanent botanicals to create a full and dramatic display. Botanical Mix has the very best of both and always creates the most incredible works of art. You really cannot decipher which stems are fresh and which ones are faux! The bright array of tulips, peonies, and hydrangeas brings color and life to the party and inevitably puts a huge smile on your face. If your dining area has a fireplace, add a coordinating arrangement of flowers to the mantle to complement the table design.
2. Mix or match? Since the focus of this tablescape was the stunning floral design, I chose to match my dinnerware and not mix patterns or colors. This keeps the table from becoming too busy. I chose to use a collection of blue and white to tie in with the colorful tobacco leaf pottery and make a simple yet elegant statement.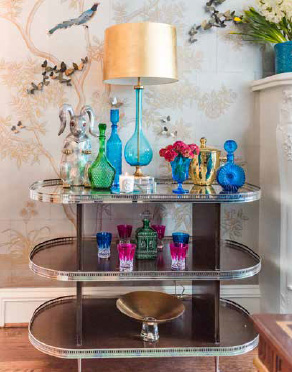 3. Personalize it! I love a beautiful monogram to add a personal touch to a table setting. Over the years, I have collected white napkin sets with monograms in various colors. It offers a crisp look with just a pop of color to coordinate with whatever scheme I am using. For this design, I also used a blue jeweled napkin ring to contrast with the napkin.
4. Stylish serving! A buffet or serving cart offers a convenient location for desserts, wine, or coffee. I always add a small vase of flowers to complement the table's florals. My bottle and glassware collection brings in jewel tones to the presentation.