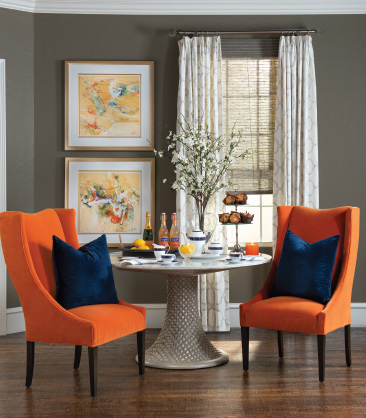 The term "cocooning" has taken on a whole new meaning with the past year of the pandemic. Working more at home has created the desire for a more functional and aesthetically pleasing space, and the money homeowners have saved from not going to movies, taking trips, or eating out is being invested in upgrades that bring personal satisfaction and value to their home.
If you are among those homeowners ready for a room refresh for your cocooning comfort, these tips will help you with your décor decisions. Start by evaluating the room(s) you use the most. Let's start with the home "office" space for now.
1. Consider the function first. Does it offer the needed privacy? The addition of a solid door(s) or a functional drape to open and close over that door offers a sound barrier and a visual buffer. Is the lighting effective? Chandeliers and lamps with the new LED lighting can illuminate the space properly to remedy any potential eyestrain and tension. Does the furniture function for you? Organization of your space according to your work habits makes work more effective and less stressful. An appropriate size and height of desk or work surface with a comfortable chair is essential. Be sure to consider allowing adequate storage for files and supplies for the daily tasks.
2. Aesthetics, though listed second, are really as important as function. Believe it or not, the choices you make when deciding how your home will look have a documented effect on your emotions and perceptions, thus affecting your productivity. Color is a key element in design that can emote feelings like rejuvenation, peace, tension, or anger. One of the new colors for this year is a great example: Sherwin-Williams's Urbane Bronze (SW7048) is a neutral gray that is grounded and serene. It would be a great color on the walls or cabinets in a home office, but be sure to spot check your paint color since it will look different in your room. Scale is another vital element to creating a space that is aesthetically pleasing. The common mistakes I see people make are selecting furniture that is typically too large, not having enough pieces for interest, or placing accessories that are too small and too many. As you start to furnish your space, make sure you remember to address the areas above the line of sight; this is so often forgotten, and the room never feels finished.
Make a list of the things you like about your space and those you want to improve. One of the skilled designers at IBB can help you create and implement a plan perfect for your space. Our vast inventory for furniture and accessories allows for immediate gratification to build the perfect cocooning space. Hope to see you soon!