Inspiring Ideas – Bedroom Makeover!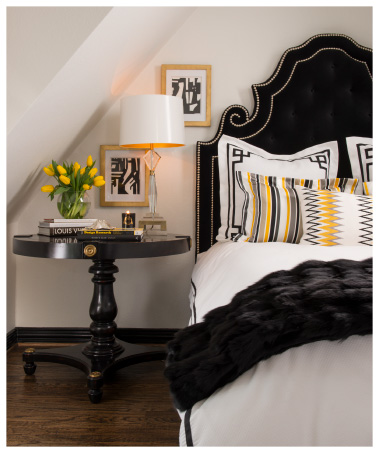 If you're looking to try a fresh new look for a bedroom in your home, these ideas can help jumpstart your design.
You might consider using one of Pantone's 2021 Colors of the Year – Illuminating or Ultimate Gray to inspire your color palette. Adding an accent of yellow can evoke a bright and cheery vibe. To keep the design comfortable and cozy, pair it with a shade of gray or black and white. A simple burst of color can be added in with pillows or an accent chair to keep it from being overwhelming. Let's face it – a bedroom painted in Illuminating would not be very relaxing. Layering in one or two accents of yellow can add interest while still offering a restful retreat.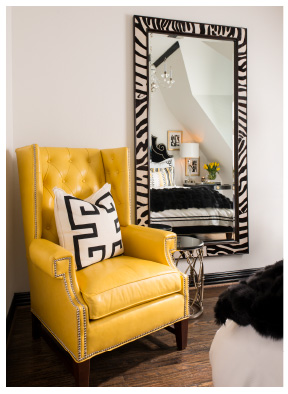 Varying textures can give depth to your room. In this design, rich texture is brought in with the beautiful black velvet bed and the black faux fur blanket at the foot of the bed. An upholstered mirror can add pattern and texture to the room. Mirrors also open up a space while bouncing light around the room.
To achieve a timeless and layered look, mix metals on your furnishings and accessories. Brass and silver design elements can be brought in with lamps, frames, furniture, and other accessories.
Surround yourself with memories. Heirloom pieces and treasures from your travels help tell your story. Whether accessories, a piece of furniture, or original artwork, these personal items will bring deeper meaning to your design and give you a look you'll be proud to come home to.