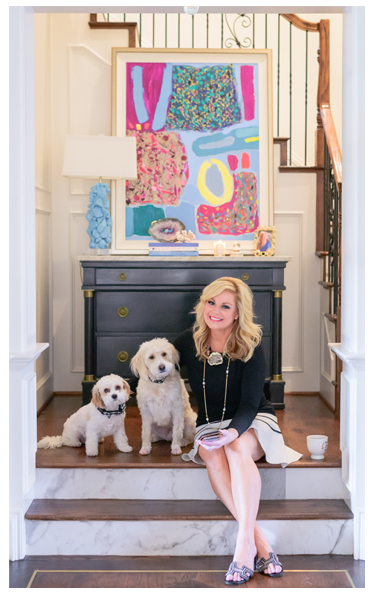 If you've followed #teamIBB for a while, then you know we have many animal-obsessed people. We joke that it's almost a requirement for our staff to have a furry companion. With a team full of animal lovers, our designers clearly have the upper hand when it comes to designing spaces that consider our clients' fur babies. After all, it's our pets that often spend the most time on our furnishings (allowed or not). For our spring issue, we wanted to take a deeper look at some posh pooches for a better insight into the lives of a designer dog. This is Gigi and Zoe Geyer's story.
Since I was a little kid, my family has always had at least one dog in our home. I can't imagine life without a dog. Gigi and Zoe both turned three in December. Gigi is a Cavachon, and Zoe is a mini Goldendoodle. Jaylie picked out Gigi, and Brooklyn picked out Zoe. They joined our family shortly after our Boxer, Roxy, was diagnosed with cancer. They gave her new life and gave us a full year with her before she passed away. What a blessing it was for them to get training from the best dog ever!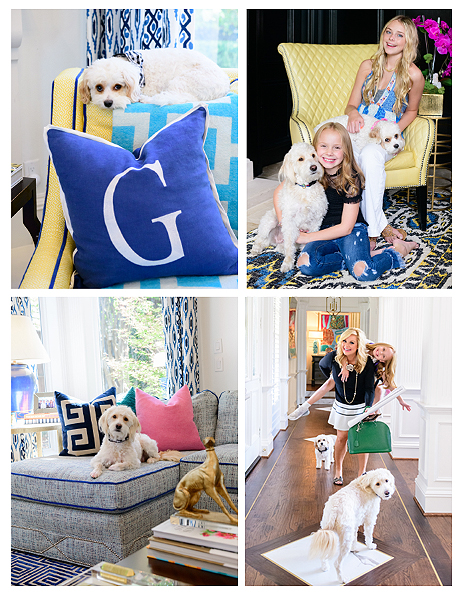 They are definitely posh pooches! As they are our beloved fur babies, they have free reign over our domain. When designing our home, I selected performance and indoor/outdoor fabrics to use on our upholstery, knowing that they would need to hold up to constant puppy snuggles. Gigi loves to lounge on the backs of the sofa and chair cushions. I make sure to fluff the cushions regularly to help keep their shape and extend the life of them. Zoe's favorite spot is on one of the chaise lounges or in someone's lap. Many indoor/outdoor fabrics are bleach cleanable, but for those that are not, I keep a bottle of Crypton cleaner handy to tackle messes made from muddy paws and other puppy oopsies.
Many people wonder about having wood floors with dogs. Our hardwoods are lightly scraped with the grain. It still offers a very clean look and also helps camouflage everyday wear and tear.
Shay Geyer – Designer Dogs with Gigi and Zoe
Puppy tip: When you're house training new puppies, roll up your rugs and put them in storage until they're completely trained. This will hopefully prevent ruining any of them due to accidents from your pooch. Crypton can help get rid of many stains, but always check the fiber content of the material and follow the cleaning directions.
"Home is where your dog runs to greet you."