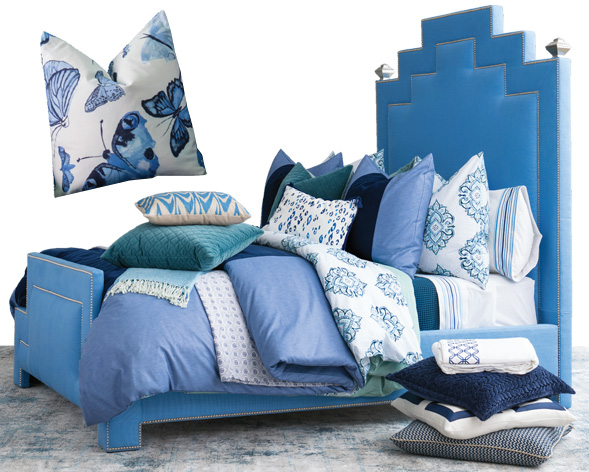 If you live in Texas, you know how unpredictable our climate can be – 70 degrees one day and 39 the next. That makes it hard to keep your bed linens on the same page as the weather. The easiest way to always be prepared is to layer up those linens!

The first layer is the sheets. If you get hot when you sleep, buy sheets that have natural fibers, as they breathe easier. Crisp percale sheets work best.

The next layer is a coverlet. They are lightweight and are perfect to use with just your sheets on a hot night. They are also a great way to incorporate pattern and are easily changeable if you want to mix up your bedding.

The next is a duvet. These are filled with an insert that is usually down-filled. The inserts come in a wide range of weights – from super thick to lightweight. In warmer months, you can fold up the duvet at the end of the bed. If you have a patterned coverlet, choose a duvet with a more toned-down look.
Now on to pillows! I know the last thing we want to do as we are ready to fall into bed is remove tons of accent pillows. You can achieve the same look by choosing pillows that are functional. Euro shams are the larger square pillows in the back that provide support for reading or watching TV. Lumbar or bolster pillows can also provide lower back support. You can layer in your sleeping pillows in front or behind the euro shams. And of course, if you can't live without a bunch of accent pillows, a storage bench at the end of the bed is a quick and easy way to hide them.

Lastly are the blankets and throws. Having one handy at the end of the bed is a great way to add color and texture. And no need to fold; just drape it over the end of the bed.
Layering your linens on your bed allows versatility with both function and style. And of course, you always know where to come for all your bedding needs!