OUTDOOR LIVING IN THE FALL!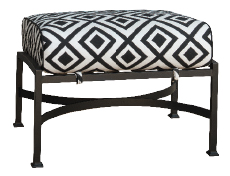 So many of us are spending more time in our homes, if not for work, then most likely as our primary source of entertainment. I encourage you to take a critical look at your surroundings and ask yourself what you can do to improve your status of comfort, efficiency, and enjoyment. Start with the outdoor patio! The cooler temperatures coming in the fall make this the perfect place to hold Zoom meetings or to gather with the family and friends for a change of scenery after being in the house or an office all day.
Ideas of what to look for:
First, consider the focal area. Second place to a beautiful pool, the focal area is generally near the food and the outdoor cooking area. If you do not have a central cooking area, this would be a great time to consider adding one. With cabinetry for the grill and other cooking tools, you could even design it with a seated bar so you can have comfortable seating close enough to visit with the cook, while allowing additional space for serving. Though a simple addition, it is most inviting and adds greatly to the enjoyment of your outdoor living experience. As long as you are doing some "construction" with the bar, consider treating the patio flooring with one of the great outdoor tiles and, if there's a ceiling, paint it a tropical color to coordinate with the pool and décor colors or add tongue and groove wood that is stained a fall color to give a cozy finishing touch.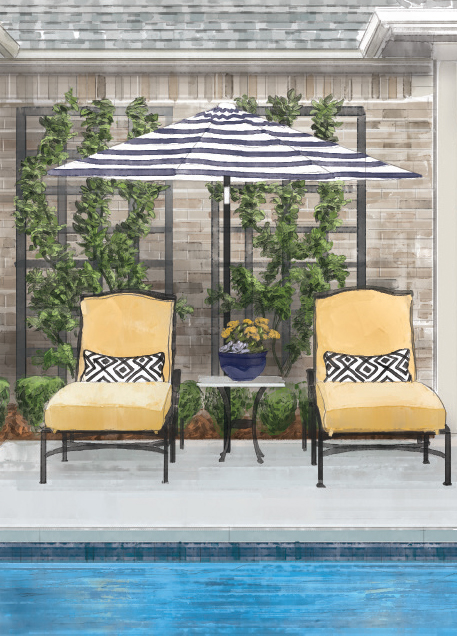 Maximize the benefits of other outdoor areas by evaluating how you can better utilize the space. How many people do you want to accommodate and how would that look? Besides the bar seating mentioned above, create another inviting area or two with comfortable lounge chairs for 2-4 people to engage in conversation. Use this area to be creative with an unusual, interesting cocktail table or a colorful, fun outdoor rug, and don't forget to find a spot for the exterior art that adds a special touch! If movies or sports are your thing, then maybe there's room for a sofa with a chaise lounge around the outdoor television for another gathering area. There are some great options for all of these, so reach out to a designer to help curate the pieces for your space and outdoor style.
As you work on these areas, be sure they not only coordinate with each other in style, color, and scale, but also coordinate with the interior of your home, especially the room you walk through to get to the outdoor living area. It should look and feel like an extension of your interior making your home visibly larger and much more interesting.
The options for outdoor furnishings have vastly expanded beyond the wrought iron and teak days. Fine furniture manufactures today provide us with an assortment of fully upholstered performance fabric sofas and chairs adapted for the outdoors with many durable options, stylish outdoor dining tables and chairs, interesting cocktail tables and side tables that would look as stylish inside the home as they do outside.
I have had the pleasure of designing and supervising the installation of many outdoor living areas and would be delighted to discuss how you can have a place of comfort and respite that will thrill your family and friends!