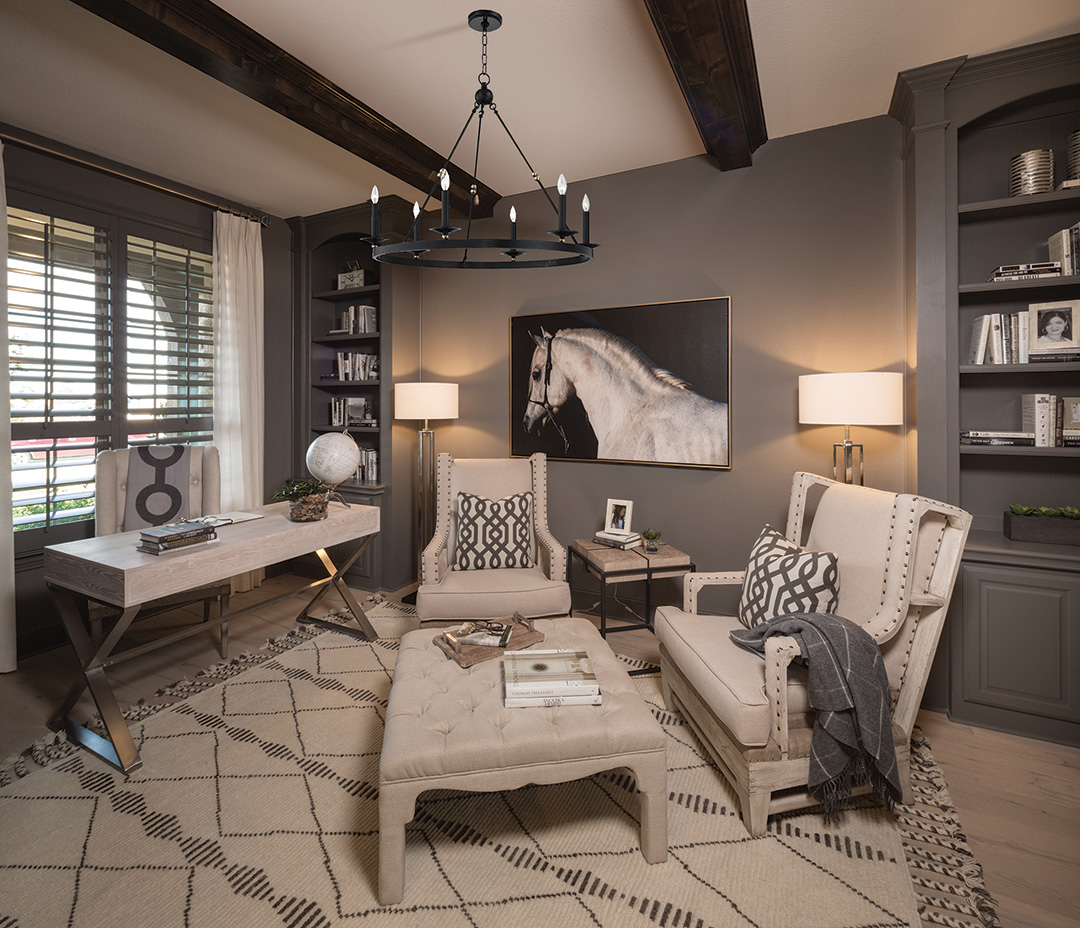 With all of the changes we've experienced this year and the major shift toward so many working from home, I've had a considerable boost in home office design inquiries. Whether the home office is one that's been ignored, is completely outdated, or is a space that was previously just designed for aesthetics, I always have three major questions before I even start building the space.
While working at home can be a bit of a pain, you can afford yourself the luxury structuring your space in a way where you work most efficiently and effectively. In a traditional office setting, executive desks, bullpens and conference rooms can constrain the way we operate. At home, you can choose if you want a more traditional desk and credenza work setting, or if you want to go rogue and park at a more casual table setting next to a window or a lounge type of setting with a great comfy sitting area with functional elements where you tackle your day's tasks.
The second item to address is the kind of technology you are working with. Are you on a laptop that can float around with or do you need to plan for multiple monitors and CPUs? Are there printers, scanners, landlines, or fax machines? Once we address the major components, we then need to address where they are going and how we're going to power them. When you're working with monitors that are obviously stationary, finding a location that has screen privacy but doesn't have window glare is something important to consider. Even when you're on a laptop, having a designated space (or two) with charging stations ready to go is fantastic, as we've all had that moment where we're in the middle of a Zoom call and the  dreaded "Low Battery" alert pops up. Many storage options even offer great cord control, which gives you a clear place to run wires to help keep clutter to a minimum.
The last and most important thing to address is storage. The data storage peripherals associated with offices are notoriously bulky and unattractive, and even though so much is now digital, many of us still have needs for traditional file storage. Planning for adequate storage and cabinet space is an absolutely lifesaver, especially in home offices and studies. For whatever reason, architects love to have these spaces either right in the entry of the home or facing into major living areas, so you don't want your equipment out all of the time. The absolutely best part of working from home is getting to be in a more relaxed environment, and if you're surrounded with clutter, it completely cancels out the biggest positive! Generously scaled cabinets can help address all of these issues.
Once you've addressed the three  major issues, it's time for the fun stuff, but like I always say, regardless of how beautiful a space is, if it's not comfortable and it's not functional, then it's not good design!
To learn more about this look, contact IBB Designer, Jory Gattis Dickinson.