STYLISH & FUNCTIONAL DINING ROOM DESIGN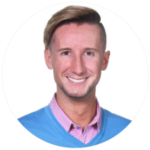 BY JORY GATTIS DICKINSON
IBB Designer
jory@ibbdesign.com
@jorya.gattis on Instagram
This dining room design is geared toward a client who really wants to incorporate fun and edgy elements, but in a way that makes sense in a more suburban setting.
In dining spaces, it's first and foremost important to consider who will be using the space – so that selections aren't only attractive, but also practical for the application. This polished concrete dining table is a great foundation piece, as it will wear beautifully over time. The small imperfections of the surface with everyday wear and tear will only continue to add to this piece's charm. Offsetting the softened wood-paneled wall with beautiful iron consoles and dramatic art adds a sense of coziness and interest.
The geometric-patterned fabric on the side chairs was not only selected for its look, but also for the practicality, as it is incredibly easy to spot clean. Incorporating an embroidered pattern also creates interest in the space, allowing the eye to move around the space to the focal points. The captain chairs are wrapped in calf hide, which adds to the overall appeal of the room.
The styling was kept fairly clean, and the real pops come in with gold accents that frame the striking art. The crowning jewel of this space is the industrial-ringed chandelier that features 15 staggering Edison bulbs. Between that and the picture lights on the side, the space truly glows and will surely be the setting for fantastic dinner parties that run deep into the night.