As many of you know, October is breast cancer awareness month.  I've long been a supporter of the Susan G. Komen Foundation.  I think Nancy Brinker is such a class act & greatly admire what she has done to fight breast cancer.  The subject also hits much closer to home for me.  My aunt is a two time breast cancer survivor and is currently in remission.  I truly admire her not only her own personal battle against breast cancer, but also her tenacity to raise money for Susan G Komen.
I recently came across the trending topics #projectpink & #thinkpink on twitter.  Every time you TWEET using the #projectpink hash tag through October 18th, PUMA will donate $1 to the winning Project Pink charity, up to a maximum of $25,000.  How awesome is that?!  So, what are you waiting for?  Go get your tweet on!!!    Click here for more information. #thinkpink is the hashtag the design blogging community has been using in an effort to raise money to help eradicate breast cancer.  See the pink posts from some of my fellow friends & design bloggers IFD Blog, Wanda S Horton,  & Cynthia Mason.
So, in honor of breast cancer awareness month & #thinkpink, the following is a brief compilation of some of my favorite pink interior goodies & inspirations.  Pink also just happens to be my favorite color, so this post is really not much of a stretch for me.  I would love to work some more pink into my home, but unless it's our kid's rooms (which of course have pink in them since we have a little girl & another baby girl on the way) my husband would kill me!  So, for now I will dazzle myself & the rest of you design lovers with some fab pink interior & fashion designs!
Click here to make a donation on-line.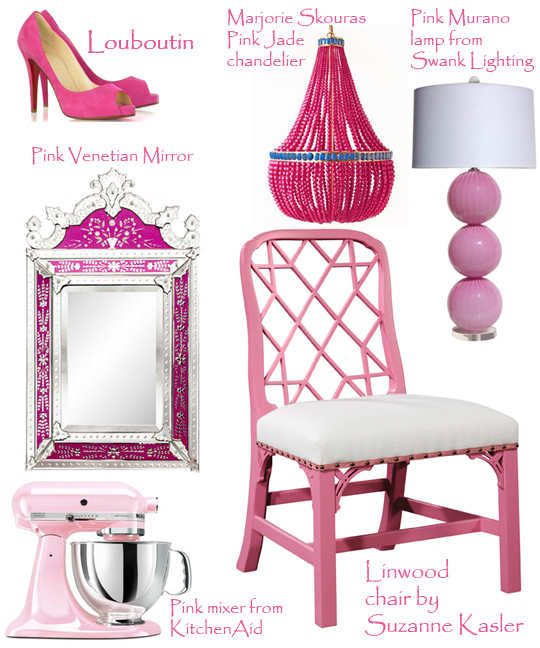 Checkberry by Glidden Paint graces the walls of this chic dining room by Suzanne Kasler.
The pink & very girly "Eloise Suite" designed by Betsy Johnson for the New York's Plaza Hotel.  Image from Elle.