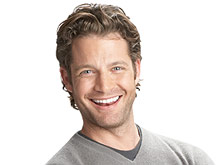 Did you know that today is Nate Day?  And, yes I am referring to the uber-fabulous  Nate Berkus, celebrity interior decorator extraordinare.  If you're active on Twitter, then you may have been alerted to the trending topic #nateday that has all of the design & blogging community in a frenzy.  "How'd he get his own day?", you may be asking yourself.  No, Oprah didn't declare it Nate Day.  The Moggit Girls did.  Why?  Is it his infectious smile & energy?  His drool worthy colorful designs?  Well, of course, but it all started with a recent announcement.  The Moggit Girls created such a buzz when they first tweeted about the debut of Nate's new show premiering in September that they asked fellow design bloggers & tweeters to unite for a day full of Nate Berkus inspired content.  Being a fan of Nate's, I am, of course, happy to participate.
So, in honor of #nateday, I thought I would share with you the top 5 reasons I can identify with & why I swoon over Nate's designs.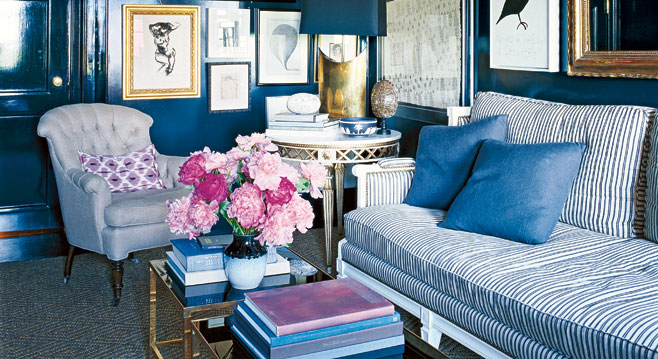 #1 Contrast:  I absolutely adore the upholstery against the dark painted walls (covered in eco friendly paint company Farrow & Ball's Off Black) in this room Nate designed alongside Ann Coyle for Elle Rakieten, a producer for the Oprah Winfrey show.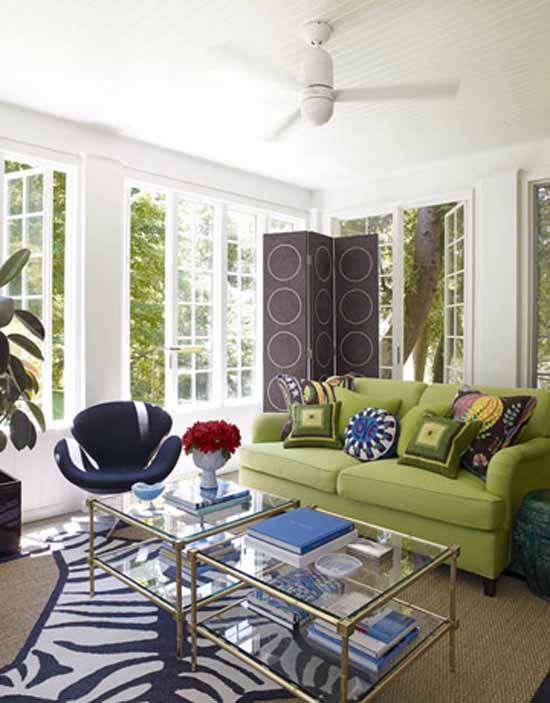 #2 Layering:  I'm a huge fan of layering!  I love to add a powerful punch to a plain sisal rug with a zebra skin rug as shown in the photo above.  Berkus hit the high notes with this one.  Each piece in the room is fabulous in it's own right, but when joined together they create a beautiful design harmony.  I showed you a similar look  with a pair of green chairs & a fun zebra hair on hide rug on GMT back in March.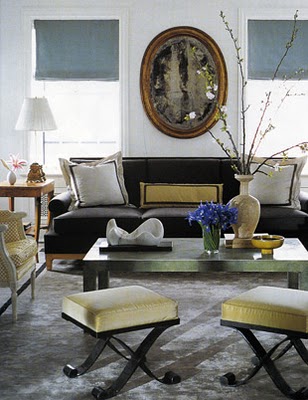 #3 Adding Ottomans:  The addition of ottomans or small benches not only allows for extra seating for your guests in a room but also gives you the opportunity to have some design fun!  I love the legs on the ottomans Nate used in this design.  The pop of color on the seat is a deep contrast with the dark rich sofa across from it.
#4 Sexy Sectionals:  Whether it's floating in a room (like the one I recently showed you that I designed for a client in California) or hugging a wall, a sectional does not have to be boring or plain.  Even though this sectional is neutral in color, the squared tufted sections make it say "va va va voom"!  This swanky pad in Milan is one of my all time favorite Berkus designs.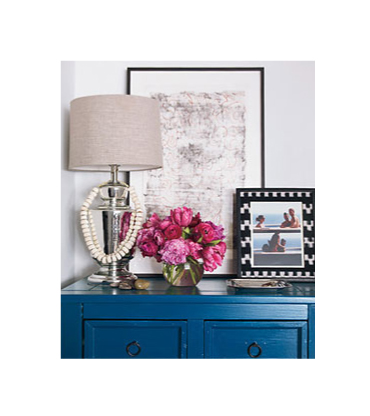 #5 Any shade of blue:  I'm always feeling blue!  I'm drawn to pretty much every shade of blue from teal or turquoise to mineral or baby blue.  It's one of my favorite colors to work with.  Nate livened up his sister's nearly neutral color palette with the addition of a painted blue chest.  The shade is pure perfection & adds drama & intensity to her home.
HAPPY NATE DAY EVERYONE!
images from Oprah.com, Elle Decor, Glamour, Google