Have you ever looked at an amazing piece of furniture & wondered to yourself "How did they make that?".    We all drool over & daydream about where to put the gorgeous pieces we find for our home, but have you ever stopped to think about the countless hours that go into designing & building these works of art?  Quality furniture manufacturers like Hickory Chair may be making their product lines in a factory, but don't be fooled.  These pieces are far from machine made.  When it comes to unsurpassed hand craftsmanship, they pay careful attention to every detail of their stunning home furnishings.    That's right.  In 2010, you can still find beautifully crafted pieces made right here in the USA.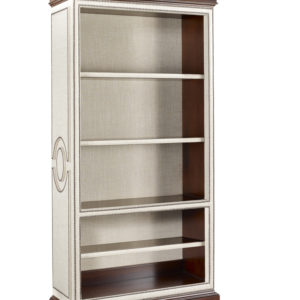 I had the privlege of being invited to tour the Hickory Chair factory in North Carolina recently and my love for their quality fine furnishings has been more than re-affirmed.  I am a huge fan of the well run furniture manufacturer.  In a time when many other companies are outsourcing overseas and cutting corners to cut costs, Hickory Chair remains true to their brand and to their people.  It was amazing to see the passion & pride ignited in their employees & craftsman as we met & chatted with them on how Hickory Chair produces their stylish line of  upholstery & casegoods.
One technique in particular left me in awe as well as many others in our tour group.  It was one gentlemen's flawless application of nail head detail.  I chatted with him about the nailhead design on Thomas O'Brien's new upholstered bookcase (which just happened to be my favorite piece from Hickory Chair from Spring market).  The bookcase's design incorporates 3800 nailheads.  I stood in awe as I watched this young man deliver each nail head with complete precision by hand and by memory.  I shot a short video of him at work on the piece.  Warning:  Watching this video may spark a new appreciation for fine furniture inside you.  (The finished upholstered bookcase is pictured on the left)
 Nail head design implemented by hand
You can find the Thomas O'Brien upholstered bookcase & other fine furnishings by Hickory Chair here.