BAR CARTS – Think Outside the Bar!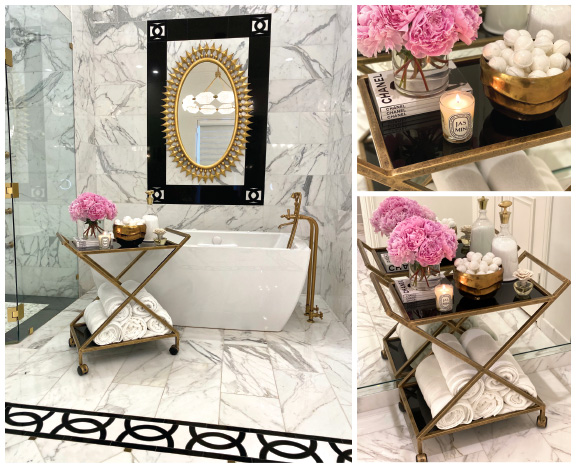 It's no secret that bar carts have been on trend for some time. Perfectly styled carts flood our social media feeds and have us yearning for a similar look in our homes. It's definitely one of the most requested furniture additions among IBB clients. It's common for our designers to hear, "…and if we can fit a bar cart in somewhere, I'd really love to have one!" With all of us spending more time at home but not necessarily entertaining as much, we thought we'd share a non-conventional approach to using a bar cart. Their mobility makes them a versatile and valuable piece of furniture.
We love to use them in bathrooms. They can provide extra storage and a pretty way to display bath essentials. If you have the space, the bar cart can be placed on an empty wall in a bathroom and then rolled over to your tub when it's time for a relaxing bath. You'll find it quite the luxury to have everything within reach right by your tub. You can place a vase of fresh flowers (or a great permanent botanical), a bowl full of bath bombs, a decanter full of bath salts, or bubble bath and a fragrant candle or aromatic diffuser on the top shelf. Try rolling extra towels on the bottom shelf so they're close by when you get out of the tub. Form and function at its finest!

| | |
| --- | --- |
| | 1. On-trend acrylic with painted bronze hardware with room for all your essentials and more – 36″ W x 34″ H x 21″ D |
| | 2. Traditional, hand-forged in solid iron with three tray style mirrored shelves finished in antiqued gold, complete with rolling casters – 33″ W x 37″ H x 15″ D |
| | 3. Streamlined polished nickel frame, three tiers of inset mirrors with hooded ball casters for easy portability – 36″ W x 34″ H x 20″ D |
| | 4. Antique gold metal with black colored glass shelves with gold leaf – 32″ W x 31″ H x 17″ D |
| | 5. Natural mango woodgrain rolling bar cart with glass shelves and antique brass handles and casters – 5″ W x 34.5″ H x 18″ D |
| | 6. Contemporary, unique ovoid shape with a solid black granite bottom shelf and clear glass upper shelf in antique brass with pivoting casters for easy mobility – 32.5″ W x 32″ H x 18″ D |