KITCHEN STORAGE & CABINETRY
STORAGE & CABINET STYLES
Walk-In Pantry
We recommend a classic walk-in pantry somewhere near the kitchen as an ideal addition to any home, regardless of size. This designated space, along with additional built-ins and storage solutions, is great for keeping kitchen-related items (i.e. dry-goods, paper goods, cleaning supplies) hidden while still easily accessible. Adding a space-saving cabinet pantry with a pull-out countertop inside is another good option if space is limited.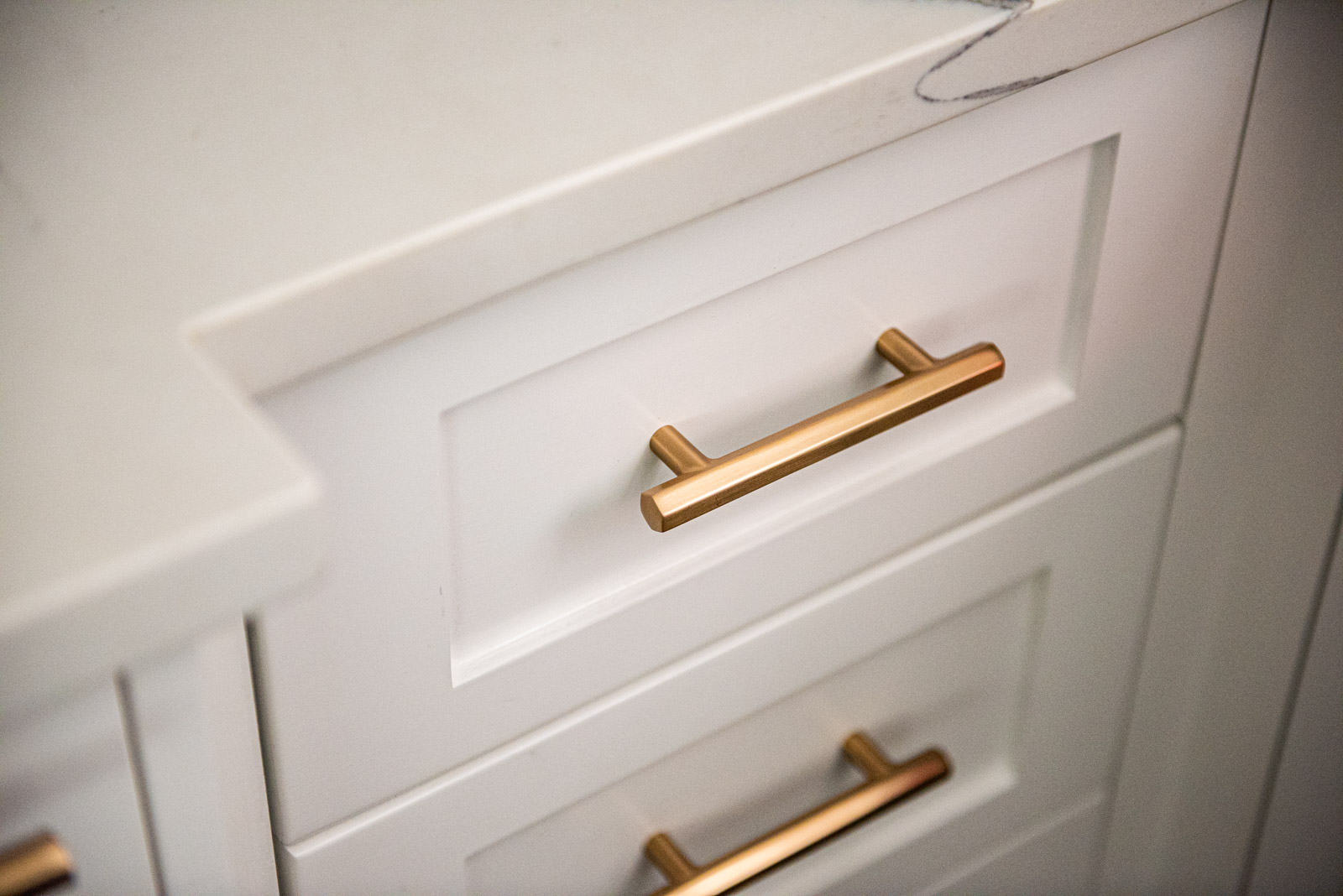 Cabinet Measurements
Cabinet Height plays an important role in the overall space configuration in the kitchen. Upper cabinets are normally positioned at 18 inches above the countertop and are 36 to 42 inches in height. Consider that your average maximum reach over and into an upper cabinet is 70 to 80 inches above the floor. Cabinets set at above seven feet will likely need to be accessed with a step ladder. Cabinets above eight feet can maximize the available storage for seasonal or decorative items, which can be reached with step stools and ladders. The standard dimensions for base cabinets are 24 inches deep and 36 inches tall. In general, people are getting taller, so some homeowners are requesting the counter height be raised to 38 inches.
Distance Between Cabinets is another important measurement in functional kitchen design. Entry points can be as little as 42 inches when there is a cabinet on only one side. Stay at least 48 inches from the face of a cabinet to the one on the other side; 50 inches is even better, but going beyond 60 inches is too wide in most cases. However, if it is a U-shaped kitchen, you could get away with up to 96 inches.
CABINET STYLES & DOOR TYPES
Cabinet Measurements
While many traditional styles have become less popular, the current trend favors a clean, streamlined aesthetic for kitchen cabinetry—a sleek and timeless style you'll love for years to come. Another kitchen cabinetry consideration involves the type of doors: inset, full, or partial overlay cabinet doors.
Inset Cabinet Doors are set into the cabinet frame and fit flush with the face of the cabinet when closed. Since the door is flat with the rest of the cabinet, a door pull or knob is needed to open the cabinet. With this type of door, the hinges can either be concealed or exposed. Inset cabinets are desired by many for their smooth, clean appearance, but there is a price to be paid for the look and quality of inset doors. That price is between 15-30% more than overlay doors. Beyond the increase in price, there are a couple of other things to keep in mind with these doors. Upper cabinets with inset doors need additional depth to accommodate dishes and platters. Also, the expansion of wood caused by high levels of humidity can sometimes cause rubbing to occur between the door and the frame.
Full Overlay Doors give a similar appearance to that of inset doors without the higher cost. They completely cover the cabinet face, providing
the flat cabinet front so desired in inset cabinets. Since they are not set inside the cabinet frame, full overlay cabinet doors provide the greatest amount of storage, allowing for ample room to store items such as pots and pans. Without the vertical stile on the face frame, double-door cabinets in the full overlay style offer a greater storage capacity and easier access to items.
Partial Overlay Cabinets are the most common and most cost-effective option for your kitchen. The door rests against the cabinet face, leaving a "gap" of usually 1-1 1/4 inch between the doors, allowing the face frame of the cabinet to be seen. No hardware is required with these cabinet doors as there is finger space on the sides of the doors, allowing easy opening. Though a more traditional look, cabinets with partial overlay doors are still a popular choice and a good option for many kitchens, especially if budget is a factor.
Huntington Remodeling and IBB Design have partnered up to form the dream remodeling team. With combined expertise in residential architecture, interior design, and project management, our project teams collaborate closely to create cohesive visions as well as bring them to completion using the most advanced design practices and highest quality products. Remodel your home with Huntington and IBB—schedule your free consultation today at HuntingtonRemodeling.com/Contact.