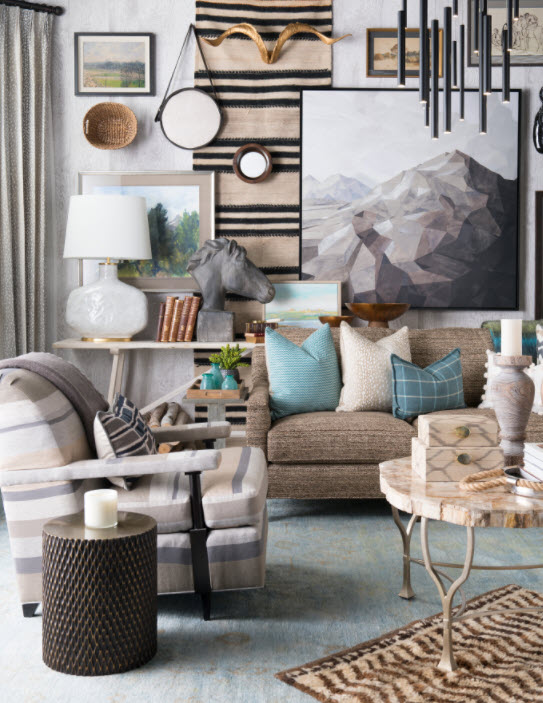 What a crazy time we've all just been through and are still experiencing. Working from home isn't new to some, but for many of us it's very different. I'm so used to going into IBB and being surrounded by clients and coworkers, fabrics, art, furniture, accessories, and all the tools of our trade. It's been difficult for me to stay still longer than I'm accustomed to – I'm afraid that's not my forte!
The downtime has been a time of reflection though. It's reminded me of how far back in my own experience having a comfortable environment in which to live was something of importance. Like many people, I had an interesting childhood – not always ideal, so I guess my environment became a way for me to find comfort. My mother and grandmother always strived to have a beautiful home; it was a source of pride for them, and looking back, I believe for them, it was also a source of comfort.
Where you live and "how" you live can be mutually exclusive. You don't have to "live large" to have a great home. Conversely, you can have a beautiful place that isn't a mansion. The basics are essentially the same – a comfy sofa; a chair that's "yours"; a throw and pillow that feel great to snuggle up with; a lamp light that soothes; and a favorite candle scent that relaxes or invigorates. I do believe this necessary time at home has been eye opening! It's reminded us that home is so much more than just a place to watch TV and sleep. It's made chefs out of "non-cooks" and schoolteachers out of many who now have a new appreciation for that profession. And it's surely made us all realize how nice it is to have others around. . What better place than our own homes to do this! This shared experience has given me a new appreciation for my profession: part creative director, part psychologist, part marriage counselor, etc. I've always enjoyed helping people create a beautiful, comfortable place to be, but I'll do this now with an even deeper purpose.