Makeover Magic in just a few hours!
Last Friday around 8:00 AM, I received an SOS e-mail from a long time client & friend that they were in need of a quick makeover for their formal living room & master bedroom.  I am used to getting requests like this around this time of year.  Many clients are eager to get their homes vamped up before their season of holiday soirees begin.  She wanted to know if we could meet around 1:00 to pull some things together to have delivered asap.  Here's where, as a designer, having access to 40,000 square feet of home furnishings & accessories with over 300 different lines at your fingertips really comes in handy!  We've been working on their home for some time now, so I was in familiar territory.  In the formal living room, we were going to utilize their existing sofa, a piece of art, coffee table, a pair of chairs & a chest.  Everything else needed to be filled in.  The room boasts 30 foot ceilings & a magnificent cast stone fireplace.  Floor to ceiling windows showcase the family's stunning backyard oasis.  I accepted the challenge & scurried back to my office after finishing GMT to get started on the project.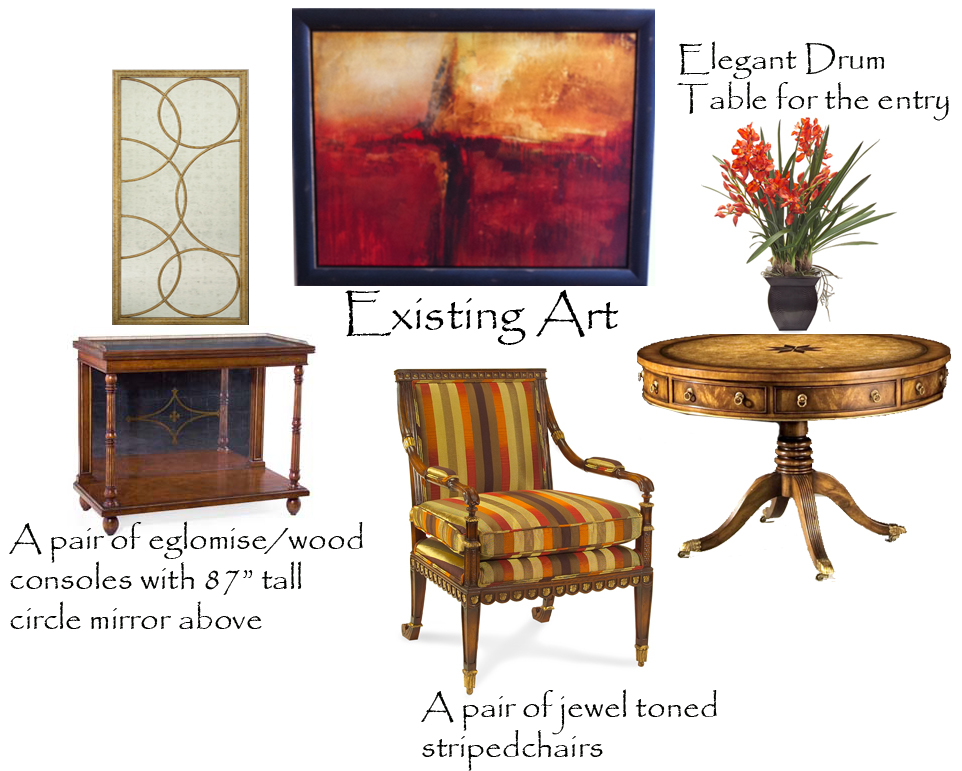 Above are a few of the pieces I came up with.  We met at 1:00 to discuss everything & had the truck loaded & ready to deliver by 3:00.  Project makeover was in full effect!  The eglomise consoles were selected to flank the fireplace with the impressive 87″ circle mirrors hanging above each one.  The jewel tone striped chairs have a stunning back (which you will see as you enter the home) & will face the windows for guests to enjoy the views.  The large drum table was picked to take center stage in the large foyer of the home.  By 5:30, the truck was unloaded & the family had a stunning new formal living room.  We will be hanging the mirrors this afternoon & are waiting on a few pieces that we decided to special order.  I love it when a project comes together so quickly.  It's that glorious feeling of instant gratification.  Or, as I like to call it ~ a magical makeover!