Chinoiserie:  a form of European decoration imitating techniques and motifs of the Orient; especially fashionable in the late 17th century and revived during the Regency, or as many say ~ a French term meaning "Chinese~esque"
While researching for this blog post, I stumbled upon a blog devoted entirely to Chinoiserie called Chinoiserie Chic. It's full of all sorts of eye candy featuring "Chinese~esque" designs.  You really should check it out!
Below are a few of my favorite examples of Chinoiserie
Chinoiserie wallpaper adds a playful & colorful touch to a bathroom.  Image via Lonny Magazine.
Another gorgeous Chinoiserie wallpaper.  Image from Domino Magazine.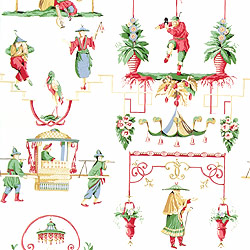 Chinoiserie fabric from Thibaut.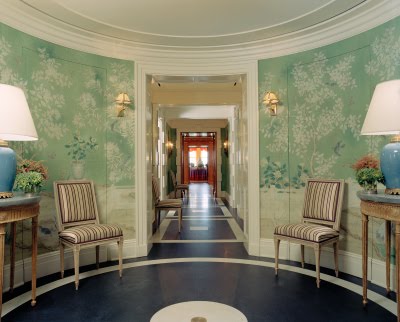 Fashion designer Tory Burch's entryway features a hand painted Chinoiserie wallpaper by Gracie.