It's time for a make-over!  It's a mini project for me.  I've finally had it!   My office at IBB is in major need of some TLC.  You see, we've been at our current location for more than five years now.  I was pregnant with my daughter & super busy at the time of the move, so I decided to put the task of "officially" designing my office space off for a later date.  Well, five years later, things are still super busy around here (Praise God!)  & my walls are still bare (with the exception of a print of the new studios I was given when I started at Good Morning Texas).  My desk chair is oh-so-comfy, but a MAJOR eye sore!  My guest chairs for clients & other business guests are pretty, but they're just not me.
Last weekend while I was up here working on a client project, I finally reached my boiling point.  Part of creating inspiring interiors, I believe, is surrounding ourselves with things we find inspiring.  My office, where I spend a great deal of time each day, falls very short of awe inspiring.
I whipped out some fabric books & my Benjamin Moore paint deck & picked out some fabulosity for my new digs.  I wanted something fun, girly, young & hip.  I will be using hints of fuschia (because I love pink & I think my fiance would kill me if I ever tried to use pink in the home we'll soon be sharing!)  I'll be re-covering my desk chair & the guest chairs, painting the walls, adding some art & lighting & switching out the big bulky armoire for a sleek mirrored console.  I'll be keeping my desk unit (even though I probably should eventually update that too) because I love it's functionality & quite frankly I just don't want to spend the money right now.  I'll be tackling this in stages (in my spare time:  note to self; find spare time! ~ LOL!) so I will post the after pictures when it's complete.  For now,  check out the color palette as well as some before photos below.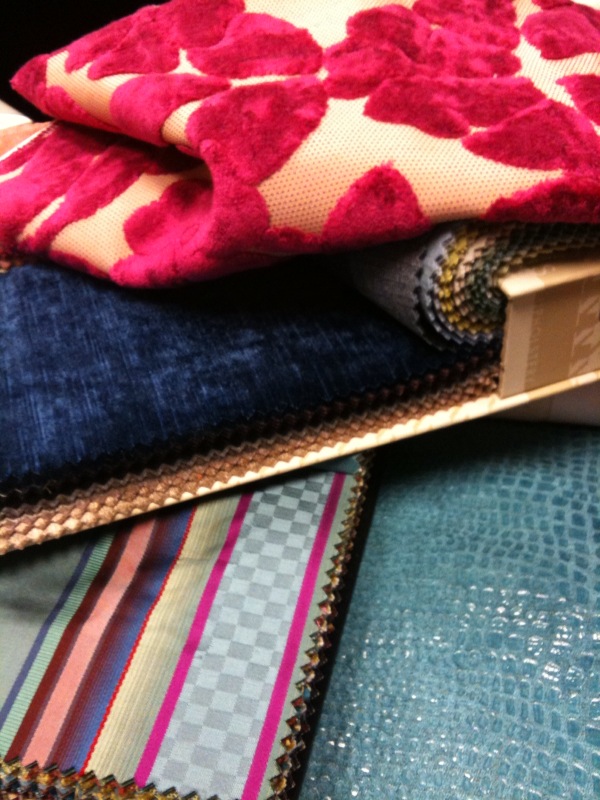 These are the fabrics I've selected.  Since you haven't heard me shut up about my excitement that turquoise is the 2010 color of the year, are you even surprised that I'd be using it in my own surroundings?  I'm contrasting it with the rich midnight blue velvet.  I'll be pulling in hints of my favorite color pink through the fuchsia in the stripe fabric as well as some accessories.  I"ll show you & explain where everything is going in the After post when the room is complete.  Gotta let the reveal be a surprise…
Desk chair before
I know, I know.  Hideous, right?  I use that cozy turquoise throw everyday ( It's always so dang cold in my office! ), but it actually helps disguise my ugly desk chair too ~ LOL!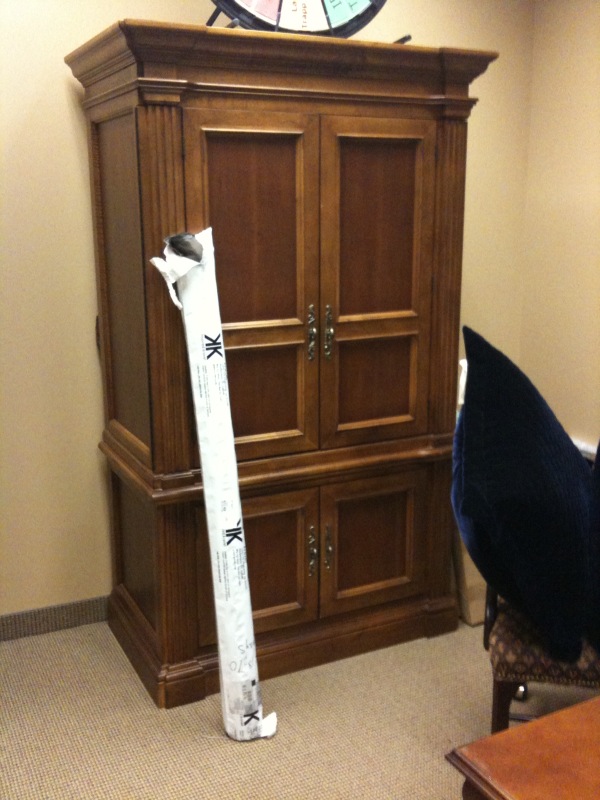 My chunky clunky armoire is getting the boot.  It's really just serving as a storage unit for JUNK!  Hasta la vista baby!
This shows off the wall color before.  I'll be changing it to a bright white for a cheery update and to bring some life into my office.  I have no windows in here, so I'm ready for a light bright feel.  As of now, I've selected Benjamin Moore white dove.  I'll be painting a test sample this weekend.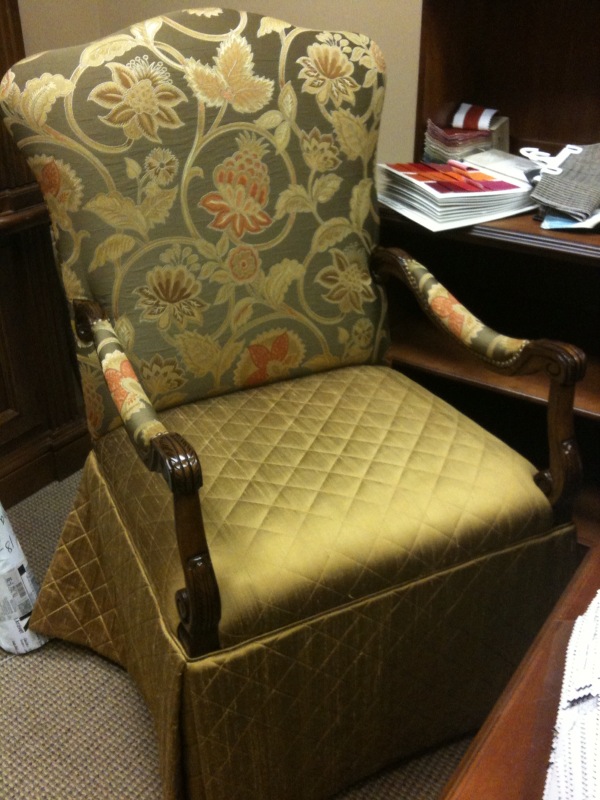 I'll be recovering these chairs & adding some cool detailing to give them a fun playful update.
If I'm feeling a little frisky, I will probably chronicle this makeover via twitter, so make sure you follow me here.