Tune in, TiVo, & get your bootie in front of the TV to watch GMT this Friday Oct 24th!  You are NOT going to want to miss this!  I'm kicking off a 6 week design extravaganza on Home Entertaining (everything you need to know to get your home ready for guests for the holidays or whenever!)  & I've got a VERY special celebrity guest joining me!  Drum roll please…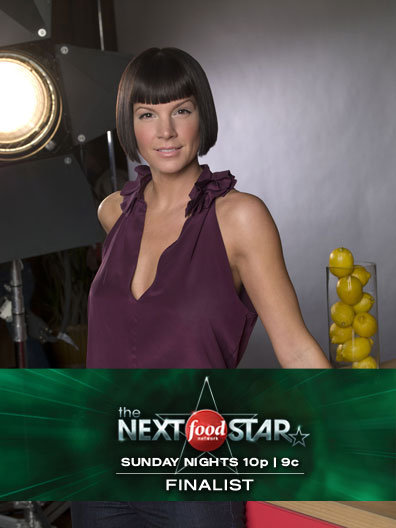 It's Lisa Garza from the Food Network's hit show Next Food Network Star!!! Isn't she just fabulous!  I am SOOOOOOO super excited!  Lisa will be doing a cooking segment live from one of our client's homes!  I got  a sneak peek at the recipe & it looks yummy yummy!  We are MAJOR foodies & Food Network junkies at the Sampson household, so I feel a little star struck!  I can't wait to meet her!
My design segment will feature a tour of the kitchen/nook area of this stunning home built with home entertaining in mind!  This is TRULY a gourmet kitchen complete with every appliance possible.  It's designed with gathering around the cook in mind with not a single detail left out.  Wait until you see the wonderful finish out of the home from the cast stone vent hood over the stove top to the Italian Fresco walls, this home is a designer knock-out!  The kitchen/nook offer amazing views of the incredible backyard resort featuring arched stone columns and groin vault ceiling with hand forged wrought iron fixtures.  I will also offer some of my favorite tips for getting your home ready for a party!
Tune in to Good Morning Texas this Friday to WFAA Channel 8 at 9:00 AM!