Five Tips to Create a Welcoming Guest Bedroom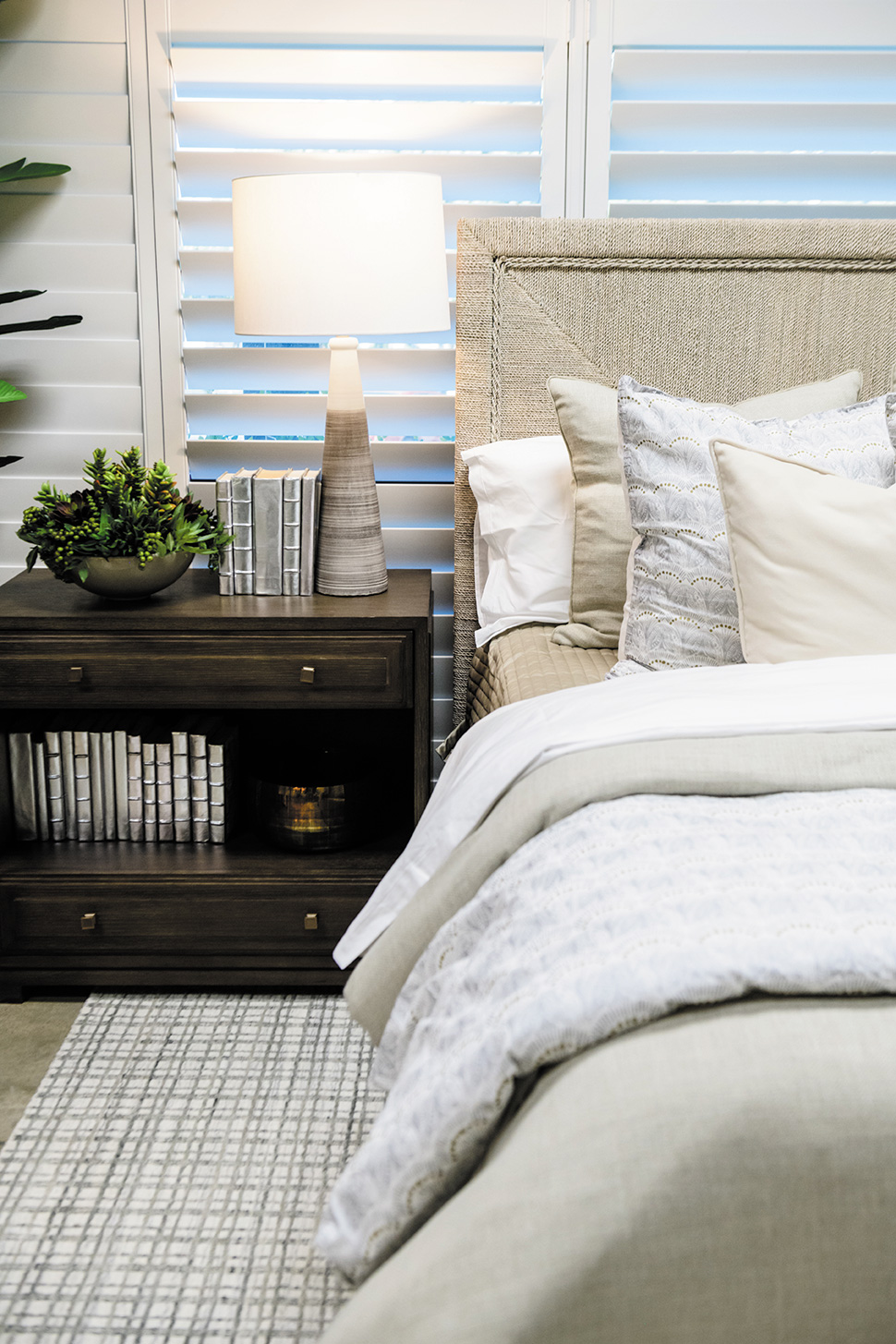 The holidays are upon us, and there are so many fantastic reasons to have overnight guests. Family and friends welcome the idea of not having to spend this cherished season in a sterile hotel away from all the action of family and fun. Here are my Top Five Tips to ensure your guests feel as if they just stepped into a home away from home.
Tip Number One: Provide s p a c e
Clear out spaces for guests to unpack their stuff. No one likes living out of a suitcase, so having an extra wardrobe, closet space, or even the surface of a dresser clean and cleared off is important. It's awkward for guests to move your personal stuff out of the way to make room for their items, so make sure there are a few EMPTY spaces and places. Guests will greatly appreciate having somewhere to unpack items in an orderly fashion. If the space won't allow for a full dresser or chest of drawers, utilize a bench at the foot of the bed for propping up suitcases or for setting down extra luggage when not in use. The less clutter, the better for everyone!
Tip Number Two: Home is where the Wifi Connects Automatically
Anticipate your guests' needs by having your Wifi password and network name prominently posted in your guest room. In today's world, no one exists without a Wifi connection, and no one likes bugging hosts for the password that looks like a long typo. Display the information in a cute frame on the nightstand or dresser. This will be a time saver for you as well, as you won't have to keep repeating a lengthy password! Speaking of electronics, if possible, provide a universal charger for cell phones. You never know which guests will have thought of everything and which ones will forget something as essential as a phone charger. Try to have it plugged in and ready to go before your guests arrive, especially if the nearest plug is somewhere inconvenient, like the wall behind the bed. Often your guests will arrive with a dead phone battery from a day of travel, and this will show how thoughtful and considerate you are!
Tip Number Three: Forget Me Nots
Have a stash of toiletries readily available in case any were forgotten. Store them in a cute basket or bin and set it out somewhere visible for guests to feel encouraged to use if needed. Include mini versions of things like toothpaste, shampoo, conditioner, body wash, mouthwash, face and body lotion, eye drops, dental floss, hairbrush and comb, cotton balls, and q-tips.
Depending on your geography, you might add sunscreen and bug spray as well. Extra toothbrushes are vital, and there are so many cute options these days for "guest sets" of this type of product. Make sure you check once your guests have left so you can refresh anything that is needed.
Tip Number Four: Back to the Basics
Keep bedding clean and fresh. Make sure sheets are crisp and unstained. Matching white sheets and bedding are best, the easiest to maintain and replace, and feel most like a hotel. Provide multiple pillows (some people like to sleep with two or more pillows) that are comfy and plump. In addition to clean bedding, set out a set of fresh towels, at least two for each guest. Fold them neatly and place them where your guests will see them and know they are for their use. Too many times people assume hanging towels will be used by guests, only to have them be mistaken for decorative use only. Also supply additional clean hand towels and washcloths. After a long day of travel, nothing is as welcoming and inviting as the sight of soft, fluffy towels waiting for use after a refreshing shower. Keep extra blankets on hand, as you never know which people sleep hot or cold. Have an extra throw blanket (or if you can swing it, a luxurious bathrobe) for wrapping up in the mornings as your guests make their way to the kitchen for coffee and breakfast. It's important for guests to have easy access to these individual comforts, as they might be missing them from their own home!
Tip Number Five: Good Clean Fun
This might seem obvious, but you never know! NOTHING is worse than arriving to your destination to find the space provided for you is dirty or cluttered. I once arrived and found the bathroom where I was staying had not been cleaned beforehand. Needless to say, I never accepted an invitation to stay there again. You might think this is common sense to keep your guest bedroom and bathroom clean, but you'd be surprised how many times hosts will do a quick pick up and miss unpleasant things that a more thorough cleaning would have revealed.
There are countless things that you, as the host, can do to make sure your friends and family enjoy their stay with you. These five tips are just some basics that ensure comfort and contentment for everyone, yourself included. As host or hostess, there will be enough things to worry about, so preparing the guest space and anticipating needs ahead of time will make sure everything runs more smoothly. BUT Beware! This could backfire. Make sure you have a hard deadline of when guests' visits end or you could end up having permanent house guests who will never want to leave your fabulous home and your considerate hospitality!