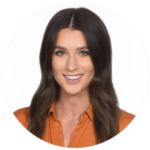 BY RACHEL JOHNSTON
IBB Designer
rachel@ibbdesign.com
@rjohnston on Instagram
A perfectly styled bookshelf is an opportunity to provide both form and function. A bookshelf should be eclectic rather than cluttered, minimal rather than empty, and balanced rather than unorganized.
There are a few elements I find to be paramount in a well-styled bookshelf. The first essential is artwork. Bookshelves are a great way to incorporate some of your favorite pieces. Artwork can be used as a main focal point on a shelf or as a base to additional layers. I like to start by placing the pieces I know I want to incorporate first and then start layering additional books, accessories or even smaller pieces of art in front of them. Artwork helps to ground books and accessories, making them seem intentional instead of random and cluttered.
Another component I love to incorporate into a bookshelf is florals. Plants and florals not only bring life to your shelves, but are also a great way to add texture and color. Even if you want to keep your bookshelves minimal, florals are an ideal way to introduce an element of freshness to your design.
Some of my favorite items for a bookshelf are pieces that have been collected through one's travels or items passed down through generations. Old photos, antique pottery, or even torn or wrinkled journal pages that you can reframe are all perfect ways to personalize and add character to a bookshelf that is unique to you and your life.
Photography by Dan Piassick