Spring 2017:  One Room Challenge Week 2
OMG! What did I get myself in to? As I sit here writing this post (after 1:00 AM), I'm starting to think I should have chosen our pool bath instead of our study ????. With all I have on my plate with clients & running a business, it proves very difficult to find time to tackle my own design to-do list. This past week has been a whirlwind. We head to High Point market next week, so I've been meeting with clients back to back, checking in on projects, presenting concepts & sourcing. We're very fortunate that the area of Dallas we live in is booming. Like crazy big time booming! There's no shortage of folks building new homes or looking to remodel. With so many companies relocating here, the real estate market is on fire and so many commercial projects are popping up all around us. We're also in the process of building a new design center. It's definitely an exciting time at IBB Design. With tight deadlines and such a high demand for skilled trades & labor, I've spent a great deal of time calling in favors to get projects completed for my clients. This first week of the ORC has definitely been a reality check for me that this room may not be camera ready in six weeks ????.
Let's get to the nitty gritty & discuss inspiration, details & timeline.
As you saw last week, the room's backdrop is high gloss black paneling, white ceiling & brass & acrylic light fixtures.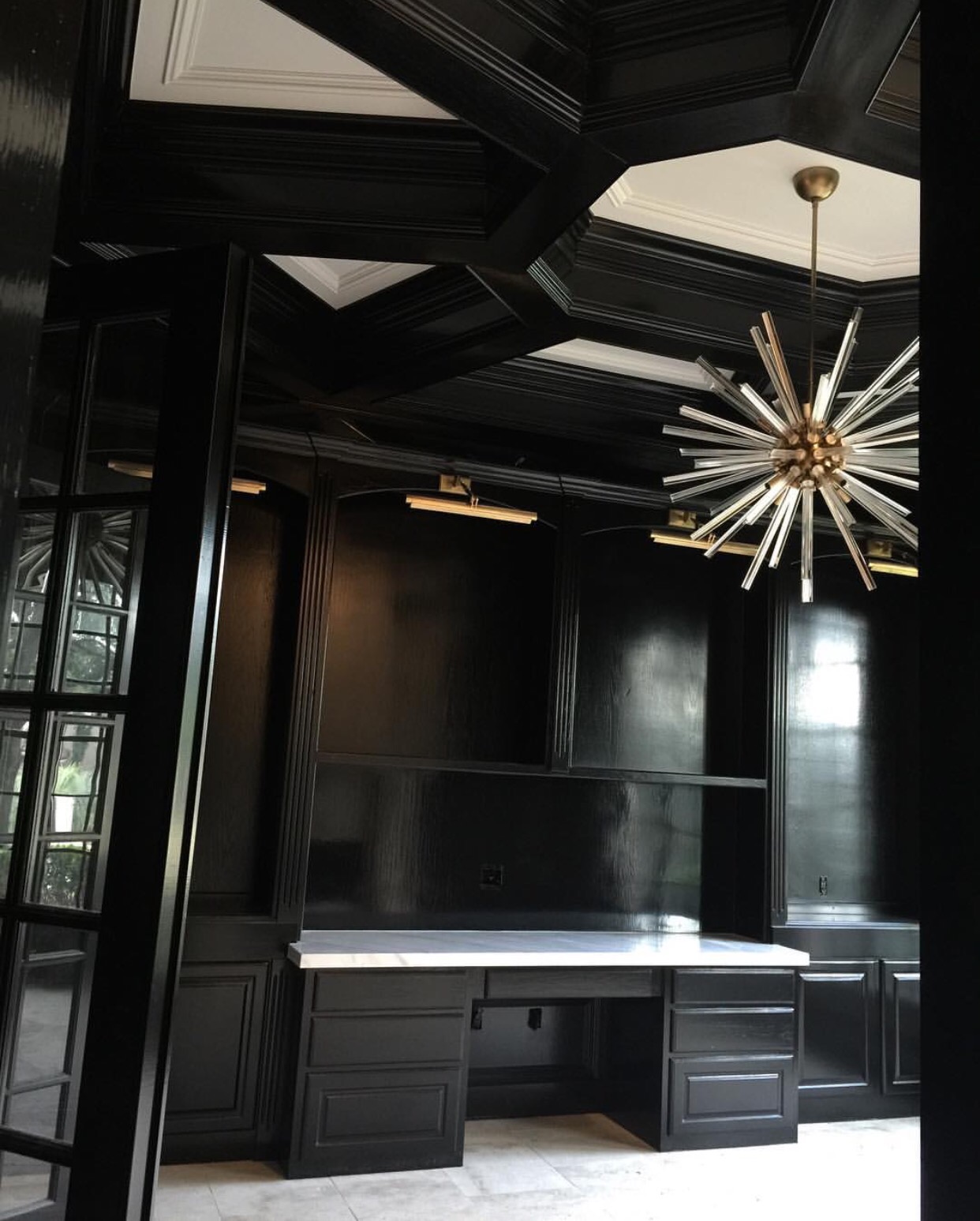 Now if you know me or follow me on social media, then you know I love color! Let's take a look at some inspiration photos for the room's color palette. I saved these photos a while back & can't remember the original source, so if you know the designer, let me know so I can properly credit.
L????VE all of this fresh color! Blue, yellow & a small pop of fuchsia – AMEN to all of that!
This inspiration photo really captures the color vibe I'm after.
The art above will go above our fireplace mantle is my inspiration for my room's palette. It's a actually an Hermes scarf that my mom gave me as a gift. I'm framing it to turn it into artwork that I can see & enjoy every day. I'm not typically a green person but I'm so drawn to pulling out this stunning malachite that I'm going to step out of my normal comfort zone & go for it as a strong accent in the room ????.
I'll be doing motorized drapery in here. The panels will hang on a simple brass traversing rod & the top photo shows the square finial I'm using. I have a little trick up my sleeve with the drapery fabric (more on that later) but this is going to be a super tight turnaround considering all of the elements of the design. The black & brass bar cart (available at IBB Design) will sit to the left of the fireplace with the large scaled gold metal shade lamp on it.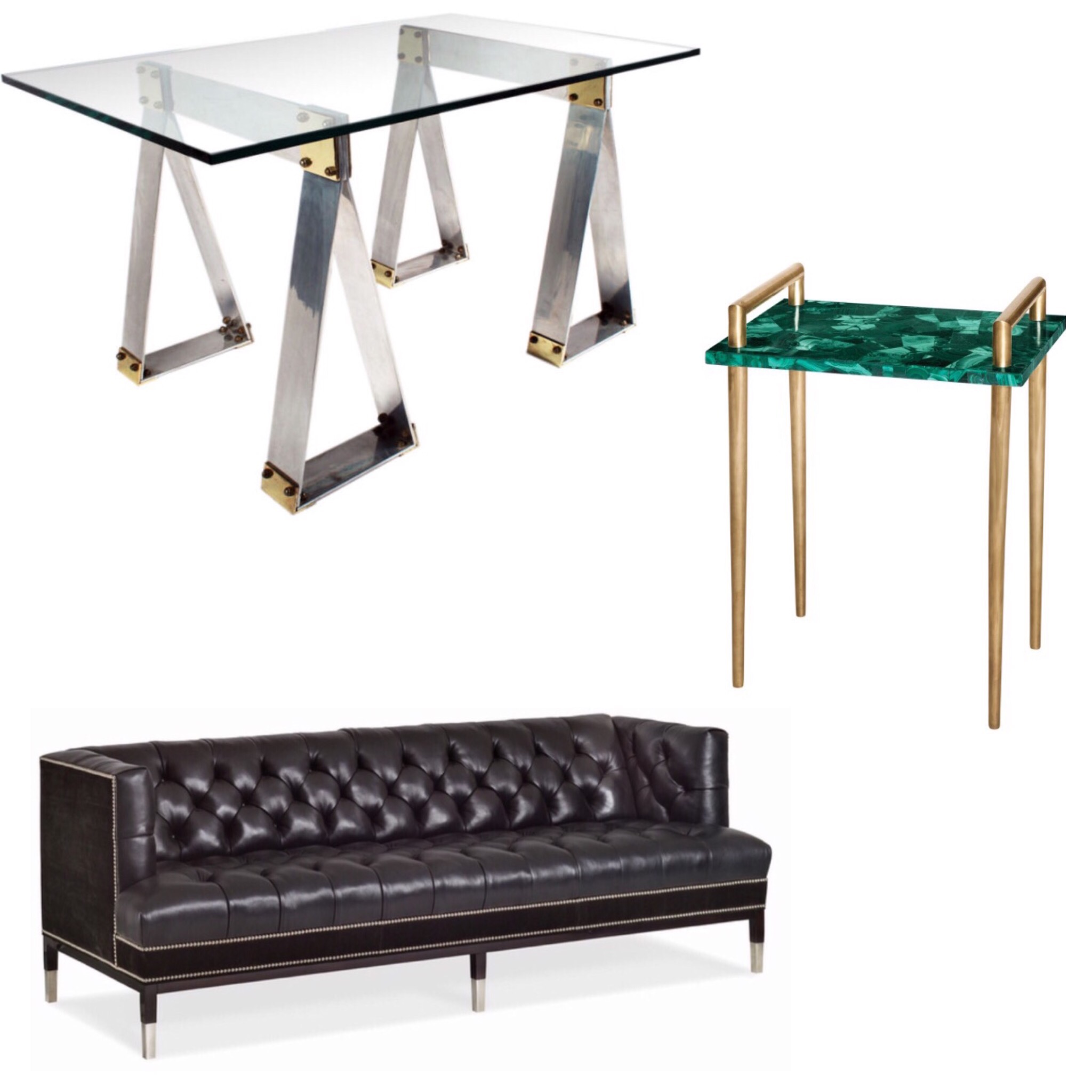 I'm using a glass, chrome & brass sawhorse desk that will float in the center of the room & back to the built in bookshelves. I love this little malachite drink table. I might use it next to the quilted yellow leather chair that I'm using toward the right of the fireplace.
Ok folks! That's all for today! Make sure you follow me on Instagram for more sneak peeks and behind the scenes. Easter weekend is almost here! Enjoy your time with your families.
Save