New look! New Style! Master Bath Makeover
I'm in the midst of a dramatic whole house remodel with some of my clients. It's turning out beautifully. I thought I'd share a little sneak peek with you today on how it's coming along.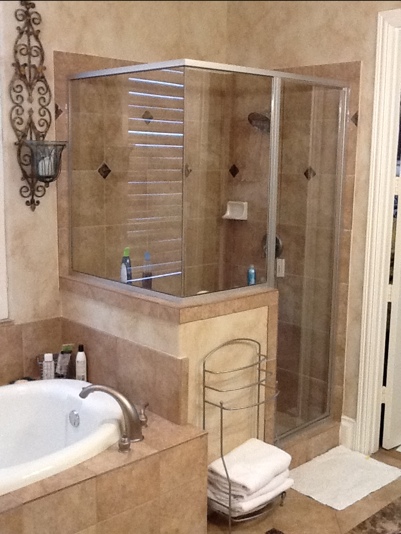 This home was built about 10 years ago. The 12×12 beige tile & shower really needed to go! The faux finish on the walls also really dates the space. Overall, the room feels brown & not up to par with the caliber of their home. The homeowners are ready for a fresh & luxurious update to create a peaceful retreat in their master bath. They also want to change their design style from Old World Traditional to a more transitional look.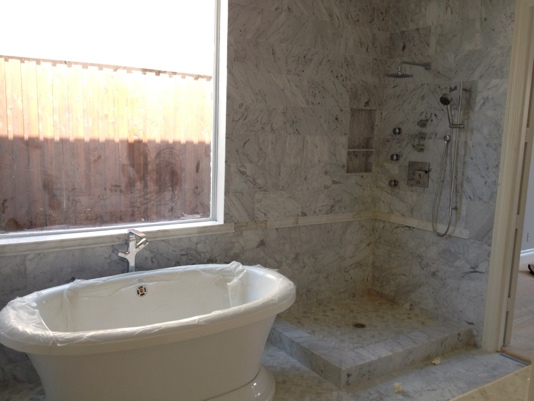 What a difference! We carried 9×18 Carrera marble in a staggered brick joint all the way up the wall. It helps elongate the space & give us the illusion of a much larger bathroom. The Carrera marble gives the space a soothing all white feel & the veining in the marble adds a beautiful flowing interest. A free standing tub helps open up the space. We used the same herringbone Carrera marble in the shower pan & to create a rug underneath the tub. A new window designed to give a clean aesthetic & gain privacy will be going in later this week.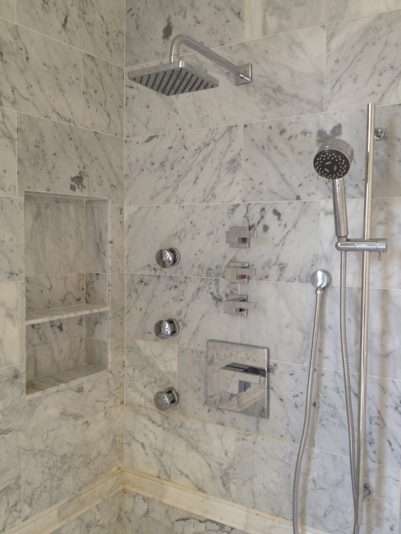 All new plumbing from Brizo was installed including the luxurious addition of body sprays. Next, a frameless glass shower will be installed.
We're not far from the completion of the remodel & the beginning of the furniture installation. Stay tuned for more sneak peeks!