Birthdays are a big deal at our house.  My sweet little princess recently turned five and she had her mind made up months before the big day that she wanted to have a Cinderella party.  We had a blast planning out all of the details.  She invited all of her girl friends to come dressed as their favorite princess and join her for a tea party.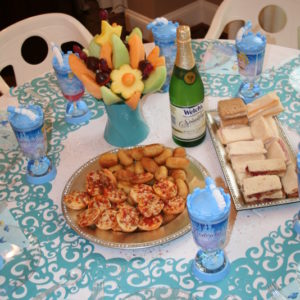 Tables setting for the tea party:  I used scrap book paper for the place mats.  The girls all sipped sparkling grape juice or lemonade out of the Cinderella glasses (from the Disney Store) which they all got to take home as part of their party favors.   Mini pizza bites, mini corny dogs and assorted finger sandwiches were on the menu.  A fruit bouquet served as the centerpiece for each table.  It turned out to be a fun way to get them to eat the healthy stuff too ;-).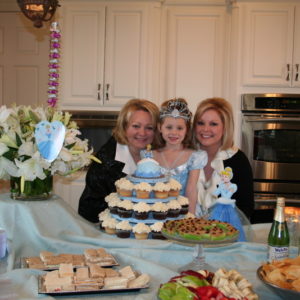 My mom, my little princess & I in front of the buffet.  Assorted finger sandwiches, ants on a log, fresh fruit, chips, sparkling grape juice & pink lemonade.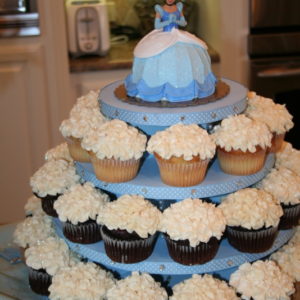 Instead of a cake this year, the princess wanted to do cupcakes.  Our favorite place for cupcakes is the Cupcakery (you have to try their Southern Belle ~ OMG!  You will think you have died & gone to Heaven!  It's a red velvet cupcake).  For the party, we had them make chocolate & vanilla dusted with light blue sparkle edible glitter.  I found the cupcake stand on-line here.  I  adorned it myself by spray painting it blue, adding ribbon and of course a little bling.  The Cinderella mini cake is from Kroger.  I had them add some edible glitter to the skirt of the cake as well.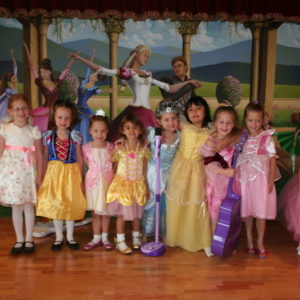 After lunch, the girls headed up to play on Jaylie's stage in the gameroom as they anticipated the arrival of our special guest.
Cinderella is here!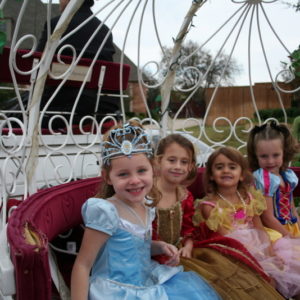 Time for all of the princesses to take a ride around the neighborhood in Cinderella's carriage!
The party was absolutely magical.  The princesses didn't want the fun to end.  "One more ride in the carriage…. ppplllleeeaasssee!!!!"