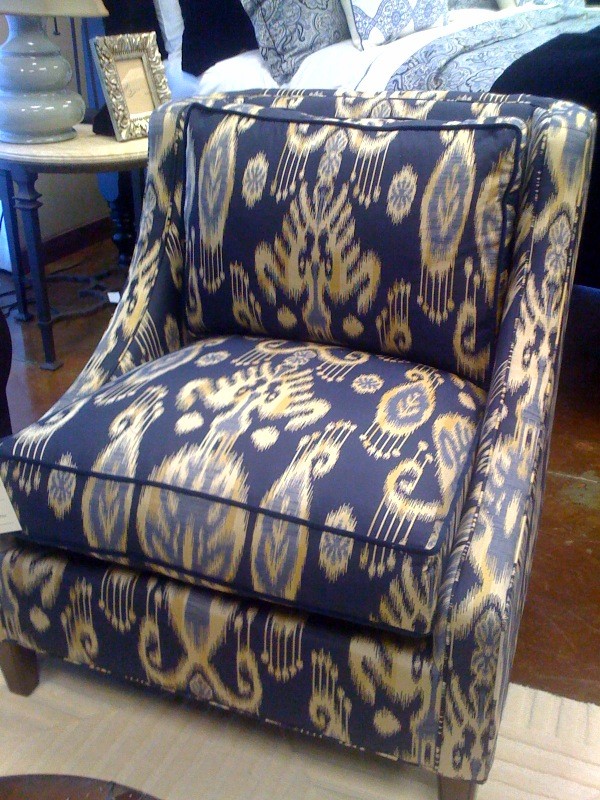 Expert color forecasters are saying that blue is here to stay.  Take note.  The mineral and ice blues that were oh-so-popular last year are getting cozy with some warmer deeper blue hues.  So, you can't go wrong with blue!  The experts are saying that a wide range of blues will dominate color palettes this year.  Keep your eyes open to rich hues with purple undertones.  Color theorists say that the color blue can have soothing healing qualities and invite calmness into our lives.  Now, who couldn't use some of that?
Deep blues can be paired beautifully with a variety of colors to create drama & contrast.  Just check out this swanky fabric on the chair pictured to the left.  The fun pattern is brought to life by the contrast of blue & butter yellow.  See these chairs in person at IBB Design Furniture Showroom.
The possibilities for cool combos are endless; navy & tangerine, mineral blue & cream, royal blue & kelly green, blueberry & vanilla, sky blue & terra cotta, the good ole red, white & blue … the list goes on & on.
There aren't many shades of blue that I don't like.  My favorite football team, The Dallas Cowboys, sport a regal navy & icy silver combo.  Whereas, my home is filled with soft mineral & ice blue.  So, when considering new colors for your home, give blue a chance.  It's a classic.