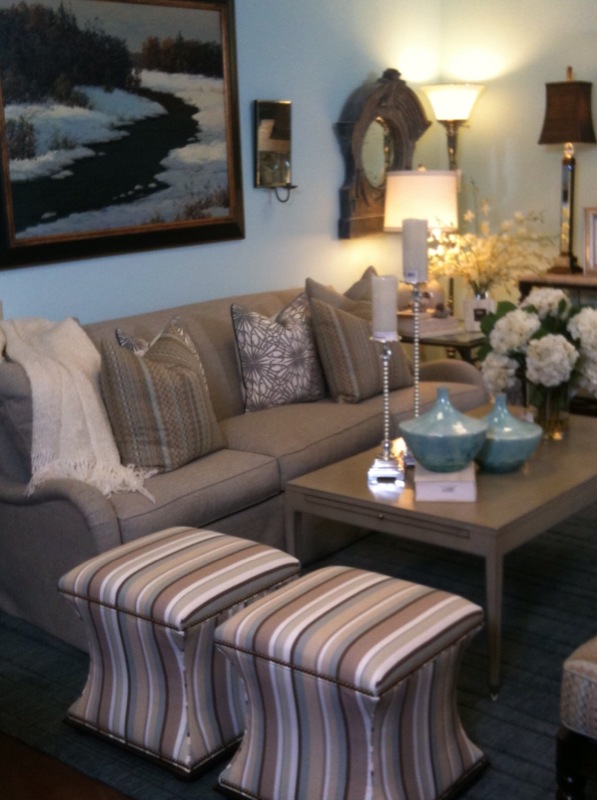 Last Friday on GMT, I gave viewers some helpful pointers on things to look for when shopping for upholstery.  I have to give a big shout out to my Twitter friend Carl for suggesting a very helpful pointer to give everyone.  Thanks Carl!  Watch the video here.
Let's use the photo above & discuss few things to keep in mind concerning cushions when you're selecting upholstery for your home.
Upholstery Styles:
Here we have a tight back sofa by Hickory Chair.  A tight back has a very structured & tidy look.  There are no back cushions to fluff.  We added a few throw pillows for comfort & to soften the look.  Decorative pillows are always a great way to add a punch of style.
Cushion Type:
Multi-cushion box seat:
Multi cushions are great for durability.  You can flip & fluff them as needed.  This comes in handy when you need to flip a cushion to hide a stain that won't come out.  A box cushion is shaped like a box & generally finished off with a welt cord.
Chairs:
Here we have a dark wood frame with upholstered loose "T" cushions also by Hickory Chair.  A "T" cushion simply wraps the arm of a chair or sofa to form a "T".