Dear Designer Detective,
Need to find out what to do about window coverings in our family room. We don't want to block or distract from any of wonderful view, but leaving them plain just doesn't look right.
-Kim Collier
Dear Kim,
Thank you so much for your question!  It's actually one I get all of the time.  Here are a few solutions that i would suggest for you.
Simple pleated linen panels on either side of the windows with woven wood shades.  The woven woods can raise & lower for privacy & allow for little or no view obstruction.
Another drapery panel & woven wood example
OR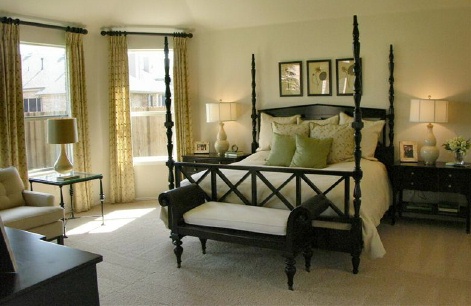 Simple pleated panels to dress the windows.  This option does not allow for privacy.  However, you could make the panels wide enough to draw closed if you want to be able to have privacy.  This will make the panels hang into the windows on the sides more, but will not obstruct your view.
OR
Here we used 2″ wood blinds with simple pleated drapery panels on either side.  The panels help to dress the windows, draw your eye up & bring color & texture into the room.
Time to get those windows stylin!  Let me know what you end up choosing to make your windows make a fabulous design statement!  Happy decorating!
~ Designer Detective