The temperature is dropping & the kiddos are back in school.  Before you know it, you'll be sitting in front of your fireplace with a nice cup of hot cocoa.  Fall is here!  I love fall and everything that represents it.  This time of year, I use a home fragrance around my house called Harvest Spice.  It's a plug in that I fell in love with the year my daughter was born & I've used it ever fall ever since.
Fall colors are warm, inviting & cozy.  Schumacher's line of fall fabrics for 2009 vividly represent the best of fall.  From intricate paisleys to lush palampores (a tree of life design) the collection offers something for everyone.  Here's a sneak peek at some of my favs.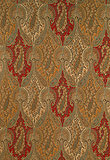 Love this bright bold paisley.  I'm also a fan of red & gold together.  Reds & golds seem to offer a timeless tradition for color palettes.  The design of this paisley is based off of an antique pattern.  Bravo Schumacher!  Love it!
I love the muted colors used in this version of the Paisley pattern.  Very soft & subtle.  It doesn't scream paisley at you.  This fabric would make fabulous draperies or bedding!
I could see this on a pair of carved wood chairs with a rich brown finish or on pillows for a sofa for an added pop of color.