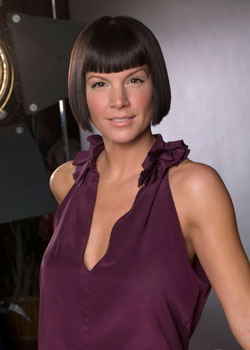 Lisa Garza from the Food Network's hit show The Next Foodnetwork Star is cooking in our client's kitchen this morning!  Don't miss it!  Tune in to WFAA Channel 8 to Good Morning Texas to watch.  In case you miss the show (shame on you!  ~ ok I'll forgive you!) I will be posting the segments on the IBB website as well as on the DD blog later this afternoon.
Here is the recipe from Lisa's segment ~ yummy yummy!!!
STILTON FILO FLOWERS with LAVENDAR HONEY SYRUP &
TOASTED ALMONDS & MIXED GREENS
6(12 inch) sheets filo
6tablespoons salted butter
4tablespoons parsley, chopped
1 ½ cup stilton cheese
1 ½ cup ricotta
2Organic Eggs
½cup lavender honey, warmed
1cup sliced almonds, toasted
Preheat oven to 350 degrees. Melt the butter in the microwave. Working quickly, on a large work surface, butter and sprinkle parsley over one layer of filo. Layer another on top and repeat until you have 3 sets of three, layered with butter and parsley. Cut each set into 3 ½ inch squares. Use the tips of your fingers to press each square into the cups of a regular muffin pan, Press the filo against the sides of the cup's until you have formed 12 filo cups. Cups should look like flowers and stick out of the top of the muffin cups. Place in the oven for 5 minutes. Remove and allow to cool. In a large bowl combine the cheeses, eggs and seasoning. Mix well. Pour ¼ cup of the mixture into the center of each filo cup. Bake for 20 minutes or until the filo begins to brown around the edges and the cheese is set. Pull from the oven and allow to rest for 5 minutes. Remove the filo flowers and drizzle with warm honey. Sprinkle with toasted almond slices. Serve with mixed greens.
Yield: 12
Prep Time: 15 minutes
Cook Time: 30
Inactive Prep:
Ease of Preparation: easy
Mixed Greens
½cup French or Italian extra virgin olive oil
4tablespoons white balsamic vinegar
2cloves garlic, minced
1teaspoon lemon zest, minced
½teaspoon kosher salt
½teaspoon fresh cracked black pepper
1pound baby mixed greens
Whisk all of the ingredients in a small bowl EXCEPT, the oil and greens. Toss the greens in with the oil in a large salad bowl. Drizzle with the remaining mixture and lightly toss again. Serve.
Yield: 12 small side portions
Prep Time: 10 minutes
Cook Time:
Inactive Prep:
Ease of Preparation: easy