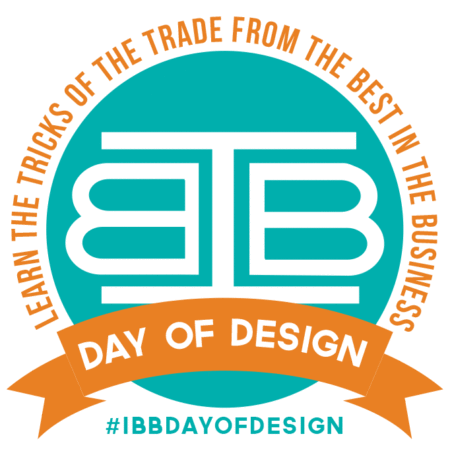 You are invited to IBB Day of Design
Saturday February 25th | 10 A.M. to 6 P.M.
Learn the tricks of the trade from the best in the business including our team of talented designers and vendor partners. IBB Designers will be presenting on design topics throughout the day and a range of our furniture, accessory & textile vendors will feature highlights from their lines.
Enjoy sips and bites throughout the day and take home one of our signature swag bags!
Follow us on Facebook and Instagram for details on presentation times & special sneak peeks into the day.
How to Dress the Perfect Bed
Michael Reese
@mr.maison
11 a.m., Upstairs
Michael will demonstrate how to perfectly dress your bed! Learn how to create an inviting & sophisticated bed that will beckon you.
Pantone 2017 Color of the Year: Greenery
Shay Geyer
@designershay
Noon, Downstairs
Shay will present ways to incorporate Greenery into your interior design & elements that reveal this fresh color. You'll leave inspired to add Greenery to your home.
Tips for Terrific Texture
Jory Gattis
@jorya.gattis
1 p.m., Upstairs
Jory will discuss tips to add texture to your home for a dramatic design. You'll learn how texture adds a dimension to your space & a wow factor.
How to Accessorize a Bookshelf
Meghan Sebren
@meghansebren
2 p.m., Downstairs
Meghan will demonstrate tips & ideas on how to accessorize a bookshelf. You will no longer be intimidated with the task & will have a beautifully designed bookshelf.
Scale & Proportion in Interior Design
Lauren Macnak
@laurenmacdesign
3 p.m., Upstairs
Lauren will present her fundamental tips for scale & proportion in your home to create great design and space harmony. You'll walk away ready to balance your home's design.
Add Depth to Your Interiors
James "JT" Turner
@jrt1175
4 p.m., Downstairs
JT will share ideas on how to add depth to your interiors with paint, accents, lighting and more! Everyone craves an interesting design that feels complete and welcoming.
Design Panel Discussion: Q&A with IBB Designers
Karen Holloway, Kay Lewis & Susan Medlin
5 p.m., Downstairs
Shay Geyer, IBB Owner & Designer, will lead a panel discussion with IBB Designers on trends, tips and more! It's your chance to have your burning design questions answered.

Century Furniture will highlight their custom upholstery program that allows you to select the width, depth & height of your sofa; as well as eliminate skirts, add an exposed leg, select buttons to tight back styles and so much more. You can build your dream sofa with one of our designers and customize every detail.

Vanguard Furniture will showcase their Make It Yours® Bedroom Collection. The most customizable bedroom collection currently in the marketplace. You can personalize your bedroom case pieces with a variety of options including 7 base choices, 13 door & drawer designs, and 20 hardware styles in 3 finishes. Choose any of Vanguard's 87 finishes in addition to any painted finish from any paint vendor like Sherwin Williams or Behr! Also, one of Vanguard's skilled upholsterers will be onsite building  a chair over the course of the day to demonstrate their handcrafted in America process. One lucky winner will win the Vanguard chair!
During IBB Day of Design, one of Vanguard Furniture's skilled craftsmen will be onsite building a chair over the course of the day to demonstrate their handcrafted in America process. One lucky winner will win the Vanguard chair!
In the heart of Western North Carolina, generations of American craftsmanship continues to thrive. For some, "Made in America" is a thing of the past — yet at Vanguard Furniture, the term resonates with more than 600 associates. Proudly, Vanguard continues to craft their upholstery and hand-finish our casegoods in America.
Vanguard's artisans hand-apply all finishes, taking careful steps to make sure that each piece has the care and attention that is required to enhance the natural character of the furniture. No two pieces are the same — every piece of furniture is truly unique.